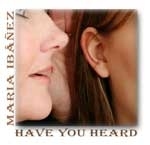 Have You Heard…
June 15, 2009
by Maria Ibâñez

Greetings, it is often said that one should start at the beginning, therefore, I will start off this week by wishing everyone an early very Happy Father's Day. Jay and I will be staying in Miami this year for Father's Day and will be spending it with my Dad, our oldest son, Orlando, who is supposed to be able to come from Quantico and perhaps Jason if he can get away and come from Palatka. The weather is warm, the days are ranging between yucky and wet to hot and humid so if we are lucky we might be able to have a barbecue and swim in the pool.
The rush of library and summer camp shows has begun so I am very, very busy both mid–week and weekends and we are so looking forward to being able to take a few days off the latter part of this month when we will be spending a few days in Palatka on the way to Nashville and the convention.
As always, please do feel free to share this weekly newsletter with others. If you know someone who wishes to be added to the recipients list please have them send me an e–mail and they will be promptly added. Until next time….
Keep a dream in the making for you create your tomorrows by what you dream today
Maria Ibáñez

Phil Willmarth and Trevor Lewis release book
Neil Tobin's continued success with Supernatural Chicago
Ali Bongo honored by CMA (Circulo Magico Argentino) AbbI McBride planning "Sisters of Magic and Mystery"
Jack Maxwell performing weekly
John Calvert and Tammy back home
Fantasio — a special request
Phil Willmarth and Trevor Lewis release book
Neil Tobin's continued success with Supernatural Chicago
Ali Bongo honored by CMA (Circulo Magico Argentino) AbbI McBride planning "Sisters of Magic and Mystery"
Jack Maxwell performing weekly
John Calvert and Tammy back home
Fantasio — a special request

PHIL WILLMARTH AND TREVOR LEWIS RELEASE BOOK
I am very thrilled to share the news that Phil Willmarth, in a joint venture with Trevor Lewis, has released his latest book, this one titled Routines Matter.
Routines Matter, by Trevor Lewis with Phil Willmarth, is 6×9, hard bound, four–color enameled dust jacket, 192 pages with 40 routines and a large section on mastering the ceremonies with advice, patter routines, novelty introductions and lines, lines, lines. This is the first time Trevor has tipped his working close–up and cabaret/banquet routines and most are wonderful examples of professional magic entertainment.
The book is available only from www.willmarthmagic.com or at the I.B.M. Convention for the moment. Pre–publication price will be held up to June20th.
Congratulations to you both and best of luck with the book sales. Hold a copy for me which I will expect both of you to autograph for me! (I will pick up my copy in Nashville)

NEIL TOBIN CONTINUES TO HAVE SUCCESS WITH SUPERNATURAL CHICAGO
Neil Tobin continues to experience a very successful run with his presentation of Supernatural Chicago. A well presented, limited capacity, always sold out presentation which he has been hosting and performing in for several years now.
If you would like to see a video of his presentation, you may do so by following the below link
http://www.youtube.com/watch?v=zUgAfuh1tIo

ALI BONGO WAS JUST HONORED BY CMA (CIRCULO MAGICO ARGENTINO)
Word comes to us through Ted White that recently deceased, Honorary Member, Ali Bongo was honored this past June 5th by the CMA at a gathering where videos of his performances and visits to Argentina and the CMA were played. There was also a display of photographic material as well as other memorabilia of his visits to the club, also on display were magic effects that had once belonged to Ali Bongo. Hopefully Ted will provide us photos and perhaps a video of the event at a future date

ABBI MCBRIDE PLANNING "SISTERS OF MAGIC AND MYSTERY"
SISTERS OF MAGIC AND MYSTERY
September 7th, 8th and 9th, 2009
This event is open to all women who perform magic, who work with magicians, or who simply love magic. Together, we will create a circle of sisterhood, where we will share in group discussions about what it means to be a woman in the world of magic, the challenges we encounter and how we deal with them, and how we weave together the many worlds of performance and relationship.
We will have special guest presenters, including Luna Shemada and others. Blaire Larsen will be coming to offer a special screening of her fascinating documentary, Women in Boxes. We will have the opportunity to perform for each other and receive feedback on how we can take our magic to the next level of excellence.
We will learn hints and tips on costuming, make–up, and which tricks work the best for us ladies….It's going to be an incredible few days, and you are invited to join us for the very first Sisters of Magic and Mystery. Size is limited to 15 women, registration is open now!
Want to get more involved? Contact me, offlist and let's chat!

JACK MAXWELL PERFORMING WEEKLY
Check me outWednesday Busting loose my "BRAND NEW"man showDada's!I'll have 2 different 30 minute shows"Fully Loaded"magic and mentalism.The first show starts at 10:00 pm.Come early and have dinner and drinks,the menu is off the hook.
Where:Restaurant – 52 N Swinton Ave – Delray Beach, FL  When:Everystarting at 10 PM!

JOHN AND TAMMY CALVERT BACK HOME
We have happily learned, through Windy Douton, that John and Tammy Calvert are once again safely back home. Windy teases that John should just think he is doing a blindfolded drive whenever John complains that he's not used to Tammy doing the driving. Report is that John has made a great recovery and this has only slowed him down a little bit while he adjusts to the medication.
It's true what is said that you can't keep a good man down. Hoping to see you soon John.

FANTASIO — A SPECIAL REQUEST
Friends,
my friend, and yours, Fantasio, is missing a couple of pieces and he has asked whether I might have a source to help him find them. I've contacted a couple of possible sources but I am also asking here in case someone can help ….. He is missing the following:
Pallbearer's Review
Folio #1

–

Winter '67

–

8 Pages: 135 to 142
Folio #2

–

Winter '68

–

8 Pages: 219 to 226
Can one of you out there help us complete his set?   THANK YOU in advance

Eric Brouman (15) Terry Elton (15) Kevin King (18)
Terry Runyon (21) Robert Schwartz (16)
Happy birthday to you,
Happy birthday to you
Happy birthday dear friends
Happy birthday to you.

If you have any information or reviews on magic happenings or events, then please send it to me, by sending an email to: Merlina17@aol.com

 Escucho…
Junio 15, 2009
por Maria Ibâñez
S

alud

os, a menudo se dice que uno debe empezar por el principio, por lo tanto, voy a empezar esta semana por desearles a todos un Feliz Dia de los Padres. Jay y yo vamos a quedarnos en Miami este año para el Dia de los Padres y será pasado con mi papá, nuestro hijo mayor, Orlando, que se supone que es capaz de venir de Quantico y quizás Jason si puede venir de Palatka. El clima es cálido, los días se van entre húmedo y caliente y si tenemos suerte podremos hacer una barbacoa y darnos un baño en la piscina.
Los eventos delas bibliotecas y los campamentos de verano han comenzado yestoy muy, muy ocupada tanto a mitad de semana como en los fines de semana y estamos esperando el poder al fin tomar unos días de descanso en la última parte de este mes, cuando vamos a pasar unos dias en Palatka en camino a Nashville y la convención.
Como siempre, por favor no dude en compartir este boletín de noticias semanal con los demás. Si conoces a alguien que desea que se añade a la lista de beneficiarios, por favor me envíe un e-mail y será inmediatamente añadió. Hasta la próxima vez….
Mantenga un sueño en elaboracion ya que crean sus mañanas con lo que sueñan hoy

María Ibañez

 

EN ESTA EDICIÓN

Phil Willmarth y Trevor Lewis publican libro
Neil Tobin continua con éxito Supernatural Chicago
Ali Bongo honrado por CMA (Circulo Mágico Argentino)
Abbi McBride planificando evento Hermanas de la Magia y el Misterio
Jack Maxwell desempeña show semanal
John Calvert Tammy y de vuelta en la casa
Fantasio una solicitud especial

 

PHIL WILLMARTH Y  TREVOR LEWIS PUBLICAN LIBRO 

Estoy muy emocionada de compartir la noticia de que Phil Willmarth, en una empresa conjunta con Trevor Lewis, ha publicado su último libro, titulado Routines Matter.

Routines Matter, por Trevor Lewis con Phil Willmarth, es 6×9, libro duro, de cuatro colores esmaltada sobrecubierta, 192 páginas con 40 rutinas y una gran parte en el dominio de las ceremonias con el asesoramiento, ligeras rutinas, la novedad y la introducción de líneas, líneas, líneas . Esta es la primera vez Trevor tiene su punta de trabajo de cerca y de cabaret y / banquete y la mayoría de las rutinas son maravillosos ejemplos de la magia profesional de entretenimiento.

El libro está disponible sólo de www.willmarthmagic.com  o en el Convenio de la IBMpor el momento. Previa a la publicación de precios se llevará a cabo hasta Junio 20th.

Felicitaciones a ambos y lo mejor de las suertes con el libro. Guarden una copia para mí y espero que me den su autógrafo (Voy a recoger mi copia en Nashville)

NEIL TOBIN SIGUE TENIENDO EXITOS CON SUPERNATURAL CHICAGO

Neil Tobin sigue experimentando un gran éxito con su plazo de presentación de Supernatural Chicago. Una buena presentación, capacidad limitada, se vende totalmente la presentación siempre que ha sido acogida y en la realización desde hace varios años.

Si desea ver un video de su presentación, puede hacerlo siguiendo el enlace a continuación

http://www.youtube.com/watch?v=zUtQruh1tIo

 

ALI BONGO WAS FUE HONRADO POR LA CMA (CIRCULO MAGICO ARGENTINO)

La noticia viene a nosotros a través de Ted Blanco que, el recientemente fallecido, miembro honorario, Ali Bongo, fue honrado el pasado 5 de junio por el CMA en un encuentro donde los vídeos de sus interpretaciones o ejecuciones y las visitas a la Argentina y el CMA se mostraron. También hubo una exposición de material fotográfico, así como otros recuerdos de sus visitas al club, también en la exhibición fueron expuestos los efectos mágicos que había pertenecido a Ali Bongo. Esperemos Ted nos proporcionará fotos y tal vez un video del evento en una fecha futura

ABBI MCBRIDE PLANIFICA HERMANAS DE MAGIA Y MISTERIO

HERMANAS DE MAGIA Y MISTERIO
7 de septiembre, 8 y 9, 2009

Este evento está abierto a todas las mujeres que practican la magia, que trabajan con los magos, o que simplemente aman la magia. Juntas, vamos a crear un círculo de hermandad, donde compartirán en discusiones de grupo acerca de lo que significa ser una mujer en el mundo de la magia, los problemas que nos encontramos y cómo lidiar con ellos, y cómo tejer juntos los muchos mundos de rendimiento y relación.

Tendremos invitados especiales presentadores, incluyendo Luna Shemada y otros. Blaire Larsenvien a ofrecer una proyección especial de su fascinante documental, Mujeres en las Cajas. Tendremos la oportunidad de realizar el uno para el otro y recibir información sobre la manera en que podemos llevar nuestra magia para el próximo nivel de excelencia.

Vamos a recibir consejos y sugerencias sobre vestuario, maquillaje, trucos de trabajo y que lo mejor para nosotros señoras …. Van a ser unos días increibles, y se le invita a unirse a nosotrospara la primera Hermanas de la Magia y Misterio. Espacio está limitado a 15 mujeres, el registro está abierto ahora!

http://www.magicalwisdom.com/events/view/394

 

 

 

 

JACK MAXWELL SHOW SEMANAL

Venga todos los miércoles donde semanalmente suelto mi nuevo "Show de un Hombre" en el restaurante Dada. Hago 2 presentaciones de 30 minutos diferentes plenamente cargados de magia y mentalismo. El primer evento comienza a las 10:00 pm Llegue temprano y aproveche la cena y bebidas, el menú es increible

Dónde: DADA Restaurante – 52 Swinton Ave. N – Delray Beach, FL 33444-

Cuándo: Cada Miércoles, a partir de 10 PM!

JUAN Y TAMMY CALVERT NUEVAMENTE EN CASA

Felizmente hemos aprendido, a través de Windy Douton, que John y Tammy Calvert, una vez más, han vuelta a casa. Windy se burla de que John sólo debe pensar que él está haciendo un efecto de manejar con los ojos vendados cuando John se queja de que no está acostumbrados a que Tammy sea la que maneja. Informe es que John ha hecho una gran recuperación.

FANTASIO – SOLICITUD ESPECIAL

Amigos,

a mi amigo, y el suyo, Fantasio, le falta un par de piezas y me ha preguntado si podría\ayudarle a encontrarlos. Yo he contactado un par de posibles fuentes pero también estoy pidiendo aquí en caso de que alguien nos pueda ayudar .. Le falta lo siguiente: Pallbearer's Review

Folio # 1 – Invierno 67 – 8 Páginas: 135 a 142

Folio # 2 – Invierno 68 – 8 Páginas: 219 a 226 ¿Puede uno de ustedes ayudarnos a completar su coleccion? Gracias de antemano