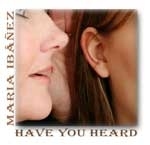 Have You Heard…
June 22, 2009
by Maria Ibâñez
Greetings, a new week has begun. Father's Day has passed, I hope you had a wonderful one. The day here at home was a quiet family day; the first year our youngest son is a father, our oldest son was able to fly in and will be with us a few days, blessed to still have my dad with us and my uncle who spent the better part of the day here with us as well. Calls and e–mails from so many of you, our friends, wishing Jay a great day rounded out the evening.
Please remember that if you respond to the Have You Heard? newsletter, by either clicking on "reply" or on "reply all", the e–mail will never get to me, nor will it go out to the thousands of subscribers on the list. Your reply will fall into the "catch all" folder and the server will have it expire and delete it within 24 hours. If you have something you would like to share with the group, or if you would like to e–mail me, you should do so by either writing me at merlina17@aol.com or at   merlina@merlina.com,  that is the only way your e–mails will get to me.
The time is running short, national convention time is upon us, if you haven't yet made your plans or reservations, now is the time to do so. To register for the I.B.M. national convention visit www.magician.org, to register for the S.A.M. national you should visit www.magicsam.com. Tough call this year with top–notch talent at both, make your plans and reservations now before it is too late and you have to regret not having attended.
Until next time, keep a dream in the making for your create your tomorrows by what you dream today.
Maria Ibáñez

IN THIS ISSUE
Ernesto Planas — Award Winning Act
Julian Chagrin — Workshop hosted in Miami
Joe Vecciarelli & James Songster — Stiltwalking for a cause
Jan Claude — Invitation from France (In French and English)
Good and Welfare
   Broken Wands
      Ted Goodman
Birthdays for the Week
      Brad Jacobs
      Hansel Perdomo

ERNESTO PLANAS — AWARD WINNING ACT
Cuban born, living in Italy for over a decade now, Ernesto Planas had a bright career in Cuba, a career which is shining once again now that he has taken up magic once again. Ernesto has received numerous awards in the past year, continues to receive praise from Domenico Dante and other well known magic personalities and has just wowed Europe with his all new parasol act. This is a performance that must be seen to be believed and thankfully, through the advent of the internet, you can now see it on you tube at the below link; trust me when I tell you that you won't be disappointed in what you see.
http://www.youtube.com/watch?v=p2UgQz0SmIc&feature=related
Should you wish to send any comments or should you wish to contact Ernesto, you may do so at: e.planas@virgilio.it or at ernestoplanasroldan@virgilio.it

JULIAN CHAGRIN — HELD WORKSHOP IN MIAMI
Julian Chagrin, the acclaimed British Mime Comedian who has performed his One Man Comedy Mime Show worldwide to rave reviews. "Mr. Chagrin is marvelous!" New York Times just held a workshop for IBM Ring 45 and SAM 280's jointly.
Among his many awards, Mr. Chagrin has received:

TwoNominationsof theFilm Festivalhis short live action comedy movies.
The Gold Rose of Montreux(The European TV Comedy Emmy)"The Orchestra" – 10 part Silent Comedy TV series, written, directed and starring himself.
Members of both clubs were fortunate to participate in the workshop presented by Mr. Chagrin. He gives Workshops all over the World, teaching Silent Comedy and Mime Techniques to Clowns,,. Included in the rare opportunity workshop were many basic techniques including: The Trip,Double Take,imaginary objects, The Window, The Fixed Point, Hand Undulation, Pulling, Pushing and much more!
Thank you Julian for a terrific workshop and indeed a very special opportunity.

JOE VECCIARELLI & JAMES SONGSTER STILT WALKING FOR A CAUSE
Our family has known Joe and Anessa for so long that they used to call him Disney Joe because he had left the South Florida area, with his then newly wedded wife, to go work for Disney up in Orlando. He has always been a giant in our eyes because of his professionalism, hard work and dedication to the art. Now, we are happy to share a video of Joe and his work partner of many decades, James Songster, who along with countless others went stilt walking for a cause.
Good luck guys on the record….
http://www.youtube.com/watch?v=aghmx8Ra6Ng

JAN CLAUDE — INVITATION FROM FRANCE
Bonjour,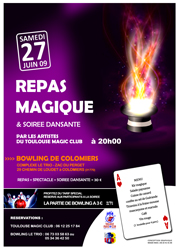 Ci jointe une doc si vous souhaitez passer une bonne soirée.
Le TMC–AMICALE LLORENS est une association magique filiale de la FEDERATION FRANCAISE DES ARTISTES PRESTIDIGITATEURS qui se réunis deux fois par moiset regroupe des magiciens amateurs et professionnels et surtout des amoureux de ma magie.
site: toulousemagicclub.fr
Merci de faire suivre l'info…
En espérant vous rencontrer…prochainement…
L'équipe du TMC
TRANSLATION IN ENGLISH
Hello,
Here attached a doc if you want to have a fun evening
The TMC–AMICALE LLORENS magic is a subsidiary of the French Federation of Prestidigitation Artists who get together twice a month and includes amateur and professional magicians and especially in love with my magic.
Read more at their site:toulousemagicclub.fr
Thank you for forwarding the info …
We hope to see you soon …
The TMC team

GOOD AND WELFARE
BROKEN WANDS
Ted Goodman
My heart is sad and heavy this morning. It was last evening that I heard my friend Ted Goodman passed away a little over a month ago. His wife has been trying to catch up with sending out word to all those who knew Ted, she had not realized that she hadn't yet sent word to me.
Charlene tells me that they had returned from the Magi Fest and had a terrific time, Ted keeping his eye out in case I was able to make it. This past January he contacted pneumonia and it would come and go, never able to really get rid of it. She came home from work on April the 18th and Ted was barely breathing, naturally she immediately phoned 911 and he was rushed to the hospital. By morning the infection had affected his heart which finally gave out about 9:30 the following morning. Charlene assures me that Ted didn't suffer.
Ted was a good, hard working man who performed the art he loved almost to the day he passed away. He was elected to the position of Regional Vice President of the S.A.M. replacing me in the position, when I was elected to 2nd Vice President. He had been teaching magic to one of his granddaughters before he passed away.
I will miss my friend but he will live in my memory forever. Rest in Peace dear friend.

BIRTHDAYS FOR THE WEEK
Brad Jacobs (28) — Hansel Perdomo (27)
Happy birthday to you
Happy birthday to you,
Happy birthday dear friends
Happy birthday to you.