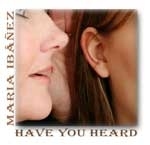 Have You Heard?…
August 10, 2009
by Maria Ibâñez
Greetings, what wonderful individuals make up the magic world! Thank you for all your words of support and hope during this past week while my mother was hospitalized. Fortunately she was discharged late on Friday and has remained a little better but she goes back to her primary physician today for further evaluation. Her sugar and pressures were both out of control and her legs were buckling under her, this added to the fact that her cholesterol went way high, made for a delicate situation since she has a triple bypass and other medical issues. Right now she is on a walker (which she is resisting with a passion), and will have to undergo physical therapy and rehab. Let us hope all goes well and we have her for a while longer, she is in her upper 80s.
Tomorrow evening we are attending a lecture by Jon Armstrong at IBM Ring 45 and will be heading back for an early night because Wednesday will have both Jay and myself rushing around on the last minute packing and loading for the flight, very early afternoon, to St Louis and the Midwest Magic Jubilee. We will be there until Sunday morning when Jay flies back to Miami and I will continue on to Las Vegas and MAGIC Live.
My summer library shows have come to an end and now comes the winter schedule, mall bookings and the normally busy Halloween season. The economy being what it is, I am hoping not to lose some of the work which is normally done, although every indication down here is that things are picking up. Is it the same in your areas?
I will try to send updates and photos from the two conventions as time and electronics permit and will have a full review when I return. Also in the works is a surprise which will be released the first week of October and which I hope everyone will be happy with; it will only be available to those who are subscribers of the Have you heard? or the Spanish version, Escucho? so make sure your friends sign up if they want to receive their own….no further hints at this time since I don't want to let the cat out of the bag too soon.
Until next time, keep a dream in the making for your create your tomorrows by what you dream today.
Maria Ibáñez

Brian Staron to appear at West Point Academy & illusion show
Leo Goldner to be honored by State of Israel Bonds
Shoot Ogawa in boot camp
Brad Toulouse distributor for Tora Magic in USA and Canada
MAGIC Live sold out—2 tickets available
Birthdays for the week
   Channing Ashbaugh (14)
   Larry Becker (13)
   Tobias Beckwith (10)
   Ron Dawson (11)
   Rita Dawson (12)
   Tony Romanelli (12)
Anniversaries
   Rick & Martha del Vecchio

BRIAN STARON TO APPEAR AT WEST POINT ACADEMY
November 13th of this year, Florida magician Brian Staron will be performing a benefit show at the United States Military Academy at West Point. The show will be for the Corps of Cadets. Further information will be provided as the time draws nearer, but until then if you wish further information you can contact Brian directly at the following:
Brian Staron
Comedy Entertainment
www.brianstaron.com
407–620–7510
This weekend, August 15th, Brian will also be appearing in an illusion show at the Ormond Beach Performing Arts Center.
Here is an upcoming event at The Ormond Beach Performing Arts Center.
Check out Kendrix Page on Facebook for even more information!
The Amazing World of Illusions 4
http://www.facebook.com/event.php?eid=112946977163&ref=mf
You will be amazed by Master Illusionist, Glen Foster, Kendrix and Brian Staron
Two shows at 2:30pm and at 7:00 pm www.ormondbeach.org
Host:Ormond Beach Performing Arts Center
Time:2:30PM Saturday, August 15th
Location:Ormond Beach Performing Arts Center

LEO GOLDNER TO BE HONORED BY STATE OF ISRAEL BONDS
On Thursday, September 10th, at 7 p.m., the State of Israel Bonds will honor Leo Goldner at the Temple Congregation Shomer Emunim. Leo founded Parker Steel and served as chairman of the Toledo area Israel Bonds campaign for over three decades and has served as a cabinet member in Miami as well as being a member of the national cabinet. He has assisted in the sale of millions of dollars of Israel Bonds to individuals, governments, corporations, etc.
Leo is an Army veteran of WWII, a 32nd degree Mason, is the recipient of the Order of Merlin Excelsior of the I.B.M. He has been married to his wife Marion for 65 years, together they have four children, five grandchildren and two great–grandchildren.
Congratulations Leo and kudos on your well deserved award. Thank you for all you do for your community and for magic and magicians.

SHOOT OGAWA IN BOOT CAMP
Thought the line would catch your eye and interest. No, he is not in military boot camp, he is going to be holding a magic boot camp next week in the Florida panhandle. Brian Ward, President of the Emerald Magic Club and the members of the assembly have created a magic boot camp in their group, they will be bringing in Shoot as the "MIC" (magician in charge) at this one.
August 19–23
Marina Bay Resort
Fort Walton Beach, Florida
Contact Brian for any further details: brian.ward@imaginationfoundry.com

BRAD TOULOUSE DISTRIBUTOR OF TORA IN USA AND CANADA
Please let me take a minute to introduce myself to you.
My name is Brad Toulouse. I reside in Tecumseh Ontario Canada.work during the day as a social worker, and during evenings and weekends as a performer. Over the last 30 years I have performed pretty much in all areas of magic, including children's and family magic, corporate & trade show magic, festivals, libraries, mentalism, and close–up restaurant magic.
My reason for sending you this email is to invite you to visit my new website:
www.MagicCastleMagic.webs.com
I am now acting as the exclusive distributor of Tora Magic for the USA and CANADA.
I invite you to visit my site please. You will find a wide range of magic, including beautifully crafted livestock, feather & plume, and metal magic. There are dozens of full color photos of much of the magic available, as well as a current complete price list of all magic available.
Please be aware of the following two points:
1)All magic is being shipped from Canada. As such, shipments are now traceable and trackable and insurable. This will make purchasing much easier and timely for you.
2)I have researched on the Web the other dealers and can safely say that the prices listed are the lowest available! If you find another listed price lower, I will gladly match it, plus give you a 5% discount!

MAGIC LIVE—SOLD OUT! STILL WANT TO GO?
It's official, MAGIC Live is fully sold out, but there are a couple of people who have one ticket each available. If interested contact them directly.
Dr. Mark Horowitz: Drmagicmh@aol.com ($325.00)
John Anderson: Anderson_j1@popmail.firn.edu ($500.00)

BIRTHDAYS FOR THE WEEK
Channing Ashbaugh (14) – Larry Becker (13) – Tobias Beckwith (10)
Ron Dawson (11) – Rita Dawson (12) – Tony Romanelli (12)
Happy birthday to you,
Happy birthday to you,
Happy birthday dear friends
Happy birthday to you.

ANNIVERSARIES FOR THE WEEK
Rick & Martha del Vecchio


Escucho?…
Agosto 10, 2009
por Maria Ibâñez
Saludos, qué maravillosas personas conforman el mundo mágico! Gracias por todas sus palabras de apoyo y aliento durante la semana pasada, mientras que mi madre fue hospitalizada. Afortunadamente, ella fue dado de alta a última hora del viernes y se ha mantenido un poco mejor pero ella tendra que ir a su médico hoy para proseguir con su evaluación. Su azúcar y las presiones son a la vez fuera de control y las piernas se le panda, esto añadido al hecho de que su colesterol esta muy alto, causan una situación delicada, ya que tiene un triple bypass y otros problemas médicos. Ahora ella está en un andador (yse resiste a el), y tendrá que someterse a terapia física y rehabilitación. Ojalá todo vaya bien y tenemos un largo tiempo con ella, está ya en sus 80.
Mañana por la tarde estamos asistiendo a una conferencia de Jon Armstrong en IBM Ring 45 y será de regresar de una pronta miércoles noche porque han Jay y yo corriendo alrededor en el último minuto de embalaje y carga para el vuelo, muy temprano por la tarde, a St Louis y el Midwest Magic Jubilee. Estaremos allí hasta el domingo por la mañana, cuando Jay vuela de nuevo a Miami y voy a seguir a Las Vegas y MAGIC Live.
Mis shows de bibliotecas en el verano han llegado a su fin y ahora viene el programa de invierno, centro comerciales y de reservas de la temporada de Halloween normalmente ocupado. La economía siendo lo que es,espero no perder parte del trabajo que se have normalmente, aunque todo parece indicar aquí es que las cosas están mejorando. ¿Es lo mismo en sus áreas?
Voy a tratar de enviar las actualizaciones y fotos de los dos convenios segun permitan el tiempo y la electrónica y tendrá un resumen completo cuando vuelvo. También estoy trabajando en una sorpresa que se dará a conocer la primera semana de octubre y que espero que todo el mundo estará encantado con ella, y sólo estarán disponibles para aquellos que son suscriptores de la ¿Have you heard? o la versión en Español, Escucho? a fin de asegurarse de que sus amigos se inscriban si desean recibir la suya propia. No más adelantos en este momento ya que no les quiero dar la sorpresa antes de tiempo.
Hasta la próxima, mantenga un sueño en elaboracion ya que crea sus mañanas con lo que sueñan hoy.
Maria Ibáñez


EN ESTA EDICIÓN
Brian Staron aparecera en la Academia West Point y en show de ilusiones
Leo Goldner va a ser honrado por el Estado de Israel Bonds
Shoot Ogawa en Campamento de Entrenamiento
Brad Toulouse distribuidor de Tora Magic en EE.UU. y Canadá
MAGIC Live agotado – 2 entradas disponibles
Cumpleaños de la semana
   Channing Ashbaugh (14)
   Larry Becker (13)
   Tobias Beckwith (10)
   Ron Dawson (11)
   Rita Dawson (12)
   Tony Romanelli (12)
Aniversarios
   Rick y Martha Del Vecchio

BRIAN STARON APARECERA EN LA ACADEMIA DE WEST POINT
13 de noviembre de este año, la Florida mago Brian Staron se presentará un show en beneficio de la Academia Militar de Estados Unidos en West Point. El show será para el Cuerpo de Cadetes. Más información se proporcionará segun el momento se acerca, pero hasta entonces si desea más información puede ponerse en contacto con Brian directamente:
Brian Staron
Comedy Entertainment
www.brianstaron.com
407-620-7510
Este fin de semana, 15 de agosto, Brian también aparecerá en un show de la ilusión en el Ormond Beach Performing Arts Center.
Aquí hay un próximo evento en el The Ormond Beach Performing Arts Center.
Echa un vistazo a Kendrix página en Facebook para más información!
El asombroso mundo de Ilusiones 4
http://www.facebook.com/event.php?eid=112946977163&ref=mf
Usted se sorprenderá por el maestro ilusionista, Glen Foster, Kendrix y Brian Staron
Dos espectáculos a las 2:30 pm y las 7:00 pm en www.ormondbeach.org
Anfitrión: Ormond Beach Performing Arts Center
Hora: 2:30 pm Sábado, 15 de agosto
Ubicación: Ormond Beach Performing Arts Center

LEO GOLDNER SERA HOMENAJEADO POR EL ESTADO DE ISRAEL BONDS
El jueves, 10 de septiembre, a las 7 pm, el Estado de Israel Bonds honrará a Leo Goldner en el Templo Congregación Shomer Emunim. Leo fundó Parker Steel y sirvió como presidente de la campaña de la zona de Toledo, Israel Bonds durante más de tres décadas y ha servido como miembro del gabinete en Miami, además de ser un miembro del gabinete nacional. Él ha ayudado en la venta de millones de dólares en Bonos de Israel a las personas, gobiernos, corporaciones, etc
Leo es un veterano del Ejército de la Segunda Guerra Mundial, Mason de 32o grado, es el destinatario de la Orden de Merlín Excelsior de la IBM. Ha estado casado con su esposa Marion durante 65 años, juntos tienen cuatro hijos, cinco nietos y dos bisnietos .
Felicidades Leo y elogios por su bien merecido premio. Gracias por todo lo que haces por tu comunidad y para la magia y magos.

SHOOT OGAWA EN BOOT CAMP
La línea capta su atención e interés. No, él no está en el campamento de entrenamiento militar. Sera el mago especial para el campamento de entrenamiento de magia la próxima semana en el panhandle de la Florida. Brian Ward, Presidente de la Emerald Magic Club y los miembros de la asamblea han creado un campo de la magia en lo que estara Shoot como MIC (mago en el cargo) en este.
19-23 de agosto
Marina Bay Resort
Fort Walton Beach, Florida
Pongase en contacto con Brian para más detalles: brian.ward @ imaginationfoundry.com

BRAD TOULOUSE DISTRIBUIDOR DE TORA EN EE.UU. Y CANADÁ
Por favor, permítanme tomar un minuto para presentarme a ustedes.
Mi nombre es Brad Toulouse. Resido en Tecumseh Ontario Canada.work durante el día como un trabajador social, y durante las tardes y los fines de semana como un artista intérprete o ejecutante. Durante los últimos 30 años he realizado casi en todas las esferas de la magia, incluidos magia para los niños y la familia, las empresas y el comercio muestran la magia, festivales, bibliotecas, mentalismo, y magia de cerca en un restaurante
El motivo de enviarte este mensaje es para invitar a usted a visitar mi nuevo sitio web:
www.MagicCastleMagic.webs.com
Ahora estoy en calidad de distribuidor exclusivo de Tora Magia para los EE.UU. y Canadá.
Les invito a visitar mi sitio por favor. Usted encontrará una amplia gama de magia, incluyendo el ganado hermosamente diseñado, y penacho de plumas, la magia y el metal. Existen decenas de fotografías a todo color de gran parte de la magia disponible, así como una lista completa de precios actual de todos los disponibles magia.
Por favor, ser conscientes de los dos puntos siguientes:
1) Todo es magia que se envía desde Canadá. Como tal, los envíos son ahora y que permite el seguimiento y trazabilidad asegurable. Esto hará mucho más fácil la compra y oportuna para usted.
2) He investigado en la Web a los demás concesionarios y puedo decir sin temor a que los precios indicados son los más bajos disponibles! Si usted encuentra otra cotización más baja, con mucho gusto coincidir con él, además de darle un 5% de descuento!

MAGIC LIVE AGOTADA TODAVÍA QUIERES IR?
Es oficial, MAGIC Live esta totalmente agotado, pero hay un par de personas que tienen cada uno un billete disponible. Si está interesado pongase en contacto con ellos directamente.
Dr. Mark Horowitz: Drmagicmh@aol.com ($ 325,00)
John Anderson: Anderson_j1@popmail.firn.edu ($ 500,00)

CUMPLEAÑOS DE LA SEMANA
Channing Ashbaugh (14) – Larry Becker (13) – Tobias Beckwith (10)
Ron Dawson (11) – Rita Dawson (12) – Tony Romanelli (12)
Feliz cumpleaños a ti,
Feliz cumpleaños a ti,
Feliz cumpleaños queridos amigos
Feliz cumpleaños a ti.

ANIVERSARIOS DE LA SEMANA
Rick y Martha Del Vecchio