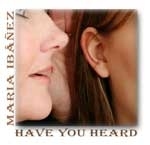 Have You Heard…
September 28, 2009
by Maria Ibâñez
Greetings, a lovely day as I look out the window of my office, with a promise of a cool down in the weather which feels more like the middle of summer than the beginning of fall, very typical for South Florida. I love the fall and spring but unfortunately, there is hardly ever a change of seasons in Miami; we have been known to have Christmas in our shorts and swimming which is why we normally go north for the holidays.
This was a GREAT week, as are all others when I get to spend time talking to our family in Beverly and even better when a great part of that is spent talking to my dear Cesareo. Hearing his voice on the other end of that line always brings a smile to my face and joy to the heart. He and I have a date in the very near future and I can hardly wait….the clock is ticking and I don't plan on touching the snooze button when it goes off.
My show this week at Land Shark Stadium was great. The medical group I performed for was very appreciative and the audience loved it. Bugs, as usual, was the hit of the show…..here I am the one who does the work and the rabbit steals the audience's heart. There's something wrong with that picture, right?
Looking forward to several shows for a local municipality that has hired me through December as well as shows for the libraries; more on that at future issues.
Until next time….keep a dream in the making for you create your tomorrows by what you dream today.
Maria Ibáñez

IN THIS ISSUE
Congratulations to Henry Lewis MIMC
50th Magical Journey of EMA
Colon Michigan, the Magic Capital of the World
Creativity at Sea — That's a Great Idea!
Tampa Bay Stage Competition

CONGRATULATIONS TO HENRY LEWIS, MIMC
Belated birthday greetings to my friend Henry Lewis who recently reached the young age of 90. I say young age because those of us who know Henry, know what an active man he is and how very involved he is in magic and with The Magic Circle.
Henry's photograph is the cover of The Magic Circular this month, a well deserved tribute to him.
Thank you Henry for all you do for magic, for The Magic Circle, and thank you for your friendship, one which I have grown to treasure as much as our mutual friend Cesareo does. Many more birthdays and many kudos to come!

50TH MAGICAL JOURNEY OF EMA
Magic Journeys of EMA (Magic Entity of Argentina) As it celebrates its 50th Anniversary.Featuring performances withof the best National and International Magicians.
When:Saturday and Sunday, December 19 and 20, 2009
With performances by:
For the first time in Argentina:Mexico –SPIDER
An extraordinary stage magician with the ideas of a genius
And many of the members of EMA, well known in their own rights
Henry Evans – Kartis, Latko -Raley – Maccagno – Zergio- – Garber
Diego Prieto – Diego Raskin – – Hector Carrion – Fuyito- Mahatma Gumm
Topin – -Pin -Marroche -Masto -Joshua – – -Larry -Black Tin
International Gala
Galas of three generations of EMA
Lectures and appearances by magicians from abroad
Joint lectures by members of
Display of collectable magic, old programs, photos and more in an effort to share the history of magic and the magic work performed by EMA and its members through the years.
Dealer's roomrepresentatives fromof the leading magic shops
Giant screen for projecting of events
Total cost for the event:Registration(to September 30)$80 US
EMA members pay$30 US
Dealers$100 US
Payments should be sent to Mago Rodo:rodomagic@arnet.com.ar

COLON, MICHIGAN, MAGIC CAPITAL OF THE WORLD
One doesn't have to travel far or look around much, one just needs to ask Rick Fisher of FAB MAGIC to discover that Colon, Michigan is the Magic Capital of the world. With all the magic happenings and plans still in the works, it is not difficult to understand why he thinks the way he does.
There is much to report here in Colon, Michigan – the Magic Capital.On Saturday, October 31st the FAB Magic Company will sponsor its 3rd annual day of magic. There is a free show at the FAB Theater (with donation of can/box of non perishable food for our Colon food pantry) at 1:00 pm, 2:00 pm Upside Down Straight jacket escape with Colon's own Justin Holbrook!
Plus illusionist Chris Hill will perform some spectacular illusions on the street. Each year this event continues to grow! Last year over 500 people witnessed our box escape emceed by Bill
Watson, (son of legendary Monk Watson) All kinds of special discounts throughout the store – in our 7,000 square foot showroom – one of the largest in the world! FREE cookies, drinks and popcorn for all! What a way to celebrate national magic day!
Elsewhere in town….our new community center is taking shape and new entertainment stage/amphitheater to be added. Our Colon is growing – not shrinking (no pun intended).
Veteran magician/illusionist Jerry Conklin continues to improve and is resting at home. He would love to hear from you! Phone 269.251.3326 or email him at conklinm1@aol.com.
More to come.Come see the magic in Colon, Michigan!!!!

CREATIVITY AT SEA, THAT'S A GREAT IDEA!
So many of us walk around with small digital cameras in our pockets or handbags, we seem to snap photos almost constantly and, after downloading them to our hard drives or sharing them on the camera screen with friends, we can never seem to find many of those shots again.
My friends Tim Sonofelt and Barry Mitchell are putting their camera to good business use…they are using it for marketing. They film presentations of the effects, they film the workings of tricks and now, they are using it to promote their Creativity at Sea cruise.
Whether or not you are taking or even thinking of taking the cruise, I highly recommend you visit the following link, it will give you a wonderful idea of a very good use for those small digital cameras we all seem to carry around….thanks to Tim and Barry and Creativity at Sea, we know that it's "a great idea".
http://www.youtube.com/watch?v=T0k-pgsIQkM

TAMPA BAY STAGE COMPETITION
Tampa Bay Magic Competition
Friday, October 16 at 8pm
Some of the best magicians from Florida compete for cash and prizes.
See the stars of magic before they disappear to the big time.www.tampabaymagicclub.com
$25 VIP, $20 Advance, $25 Day of Show, $16 Group (10+), $18 Senior,
$18 Student (19 & under)
Buy tickets now by calling the
Box Office (727)587-6793
Largo Cultural Center
105 Central Park Drive
Largo Florida 33779-0296
727-587-6751
Buy tickets here:
http://www.largo.com/department/division.php?fDD=15-105
$600+ in cash prizes
Want to perform? Send a short video of your performance (YouTube.com link fine too) and $20 registration fee. 10 contestant limit. Open to any magicians, do not need to belong to club.
Mail Check and send tape to:
Patrick Gaughan
H: 397-8400
11472 – 64th Avenue N.
St. Petersburg, FL. 33772
irishmagicart@aol.com

BIRTHDAYS FOR THE WEEK
Bill Buehler (3)
Becky Blaney (30)
Darleen Eads (3)
Rick Hinze (1)
Albert Lasher (27)
David Maranzana (29)
Monica Roucau (28)
Robert Segal (29)
Jose "Pepe" Sousa (3)
Twinkie Dee Star (3)
Luis Tinoco "Sabu" (29)
Michael Webber (1)
Ron Wilson (1)
Happy birthday to you,
Happy birthday to you,
Happy birthday dear friends
Happy birthday to you!


Escucho?
Septiembre 28, 2009
Por Maria Ibáñez
Saludos, un día hermoso cuando miro por la ventana de mi oficina, con la promesa de un enfriamiento en un clima que se siente más como la mitad del verano que el comienzo de otoño, muy típico para el Sur de la Florida. Me encanta el otoño y la primavera pero, por desgracia, no hay casi nunca un cambio de las estaciones en Miami, hemos pasados la Navidad en nuestros pantalones cortos y ejerciendo la natación, que es por eso que usualmente nos vamos al norte para las vacaciones.
Esta fue una gran semana, al igual que todas las semanas que logro pasar tiempo hablando con nuestra familia en Beverly e incluso mejor cuando una gran parte de el tiempo es hablando con mi querido Cesáreo. El oír su voz en el otro extremo de esa línea siempre trae una sonrisa en mi cara y la alegría en el corazón. Él y yo tenemos una fecha para vernos en un futuro muy próximo y no puedo esperar. El reloj está corriendo y yo no pienso tocar el botón de repetición, cuando se dispare.
Mi programa esta semana en el Land Shark Estadio fue grande. El grupo de médicos para quien actue se mostró muy agradecida y el público le encantó. Bugs, como de costumbre, fue el éxito de el evento.. Asi es que yo soy la que hace el trabajo y el conejo roba la audiencia? Me parece que algo no anda bien con esto, no creen?
Anticipando varios espectáculos de una municipalidad local que me ha contratado varias veces hasta diciembre, así como espectáculos para las bibliotecas; más sobre esto en futuras ediciones.
Hasta la próxima vez . Mantengan un sueño en elaboracion ya que crean sus mañanas con lo que sueñan hoy.
Maria Ibáñez

EN ESTA EDICIÓN
Felicitaciones a Henry Lewis MIMC
Jornadas de 50 años de EMA
Colón de Michigan, la capital de magia del mundo
Creatividaden el mar. Eso es una gran idea!
Tampa Bay Concurso de Magia

FELICITACIONES A HENRY LEWIS, MIMC
Saludos de cumpleaños tardíos a mi amigo Henry Lewis, que llegó recientemente a la temprana edad de 90. Digo temprana edad ya los que conocen a Henry, saben qué es un hombre activo y que está muy involucrado en la magia y con el círculo mágico.
La fotografía de Henry es la portada de la Circular de Magic este mes, un merecido homenaje a él.
Gracias Henry por todo lo que haces por la magia, por el círculo mágico, y gracias por tu amistad, la que he llegado a valorar tanto como lo hace nuestro amigo mutuo Cesáreo. Muchos cumpleaños más felicitaciones y muchos por venir!

JORNADAS MÁGICAS DE 50 AÑOS DE EMA
 Con la actuación de los mejores magos nacionales e internacionales –
sábado 19 y Domingo 20 de diciembre de 2009
ARTISTAS INVITADOS Por primera vez en Argentina de México SPIDER
un extraordinario mago de escena con ideas geniales…y muchos de los mas destacados socios de EMA
-Henry Evans – Kartis, Latko -Raley – Maccagno – Zergio- – Garber
Diego Prieto – Diego Raskin – – Hector Carrion – Fuyito- Mahatma Gumm
Topin – -Pin -Marroche -Masto -Joshua – – -Larry -Black Tin
Gala internacional
Galas de tres generaciones de socios de EMA
Conferencias de artistas del exterior
Conferencias en conjunto por socios de EMA
Exposición de trucos antiguos, programas, fotos, etc
con el fin de difundir el arte mágico y la tarea de la EMA.
Feria de dealers con las mas importantes casas de magia.
Pantalla gigante.
Costo de la inscripción
Congresistas…………………U$S 80 (hasta el 30 de setiembre)
Socios de EMA…………….U$S 30
Dealers…………….U$S 100
pagos: Mago Rodo • rodomagic@arnet.com.ar

COLON, MICHIGAN, MAGIA DE CAPITAL DEL MUNDO
Una no tiene que viajar muy lejos o mirar mucho, uno sólo tiene que preguntar a Rick Fisher de FAB magia para descubrir que Colón, Michigan, es la Capital magia del mundo. Con todos los acontecimientos de la magia y los planes siguen en elaboracion, no es difícil entender por qué él piensa lo que hace.
Hay mucho que informar aquí en Colón, Michigan – Sábado, 31 de octubre la compañía Magic FAB patrocinará su 3 ª jornada anual de la magia. Hay un concierto gratuito en el Teatro FAB (con la donación de una lata / caja de alimentos no perecederos para la despensa de alimentos Colón) a las 1:00 pm, 2:00 pm Justin Holbrook escapara, cabezas hacia abajo, de una chaqueta de fuerzas!
EL ilusionista Chris Hill, realizará algunas ilusiones espectaculares en la calle. Cada año, este evento sigue creciendo! El año pasado más de 500 personas fueron testigos de nuestra caja de escapar de maestro de ceremonias de Bill Watson, (hijo del legendario monje Watson) Todos los tipos de descuentos especiales en toda la tienda – en nuestra sala de exposición 7.000 metros cuadrados – una de las más grandes del mundo! GRATIS galletas, bebidas y palomitas de maíz para todos! ¡Qué manera de celebrar el día nacional de la magia!
En otras partes de la ciudad …. nuestro nuevo centro comunitario está tomando forma y la etapa de entretenimiento / anfiteatro que se añade. Nuestro Colón está creciendo – no disminuyendo (sin juego de palabras).
El veterano mago / ilusionista Jerry Conklin sigue mejorando y está descansando en su casa. Le gustaría oír de usted! Teléfono 269.251.3326 o por correo electrónico con él en conklinm1@aol.com.
Más por venir. Venga a ver la magia en Colón, Michigan!!

CREATIVIDAD EN EL MAR, UNA GRAN IDEA!
Muchos de nosotros tenemos pequeñas cámaras digitales en nuestros bolsillos o bolsos de mano, parece que tomamos fotos casi constantemente y, después de descargarlos en nuestro disco duro o compartir en la pantalla de la cámara con los amigos, nunca volvemos a encontrar muchas de las fotos mas.
Mis amigos Tim Sonofelt y Barry Mitchell están poniendo su cámara a buen uso… que lo están usando para su comercialización. Ellos utlizan la capabilidad de tomar videos para demostrar sus efectos, para demostrar el secreto de los trucos y ahora, lo están usando para promover su crucero, Creatividad en el Mar.
Si o no usted está tomando este crucero, o incluso pensando en el crucero, le recomiendo que visite el siguiente enlace, se le dará una idea maravillosa de un uso muy buena para aquellas pequeñas cámaras digitales que todos parecemos llevar a todas partes con nosotros mismos. Gracias Tim y Barry y la creatividad en el mar, sabemos que es "una gran idea".
http://www.youtube.com/watch?v=T0k-pgsIQkM

TAMPA BAY COMPETENCIA DE MAGIA
Tampa Bay Magic Competencia
Viernes, 16 de octubre a las 8 pm
Algunos de los mejores magos de la Florida competir por dinero en efectivo y premios.
Ver las estrellas de la magia antes de que desaparezcan para el gran momento.
www.tampabaymagicclub.com
$ 25 VIP, $ 20 anticipada, $ 25 día de show, $ 16 Grupo (10 +), $ 18 superior,$ 18 para estudiantes (19 años)
Compra de entradas ahora llamando a la
Box Office (727) 587-6793
Largo Centro Cultural
105 Central Park Drive
Largo Florida 33779-0296
727-587-6751
Compra de entradas aquí:
http://www.largo.com/department/division.php?fDD=15-105
$ 600 + en premios en efectivo
Desea competir?  Enviar un corto video de su desempeño (YouTube.commulta link también)
y la cuota de inscripción de $ 20. Límite de 10 concursantes. Abierto a cualquier magos,No es necesario pertenecer al club.
Check mail y enviar la cinta a:
Patrick Gaughan
H: 397-8400
11472 – 64th Avenue N.
St. Petersburg, FL. 33772
irishmagicart@aol.com

CUMPLEAÑOS DE LA SEMANA
Bill Buehler (3)
Becky Blaney (30)
Darleen Eads (3)
Rick Hinze (1)
Albert Lasher (27)
David Maranzana (29)
Monica Roucau (28)
Robert Segal (29)
José Pepe Sousa (3)
Twinkie Dee Star (3)
Luis Tinoco- Sabu (29)
Michael Webber (1)
Ron Wilson (1)
Feliz cumpleaños a ti,
Feliz cumpleaños a ti,
Feliz cumpleaños queridos amigos
Feliz cumpleaños a ti!