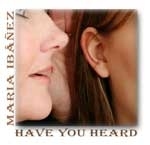 Have You Heard…
November 16, 2009
by Maria Ibâñez
Greetings, mid November, a week away from Thanksgiving and the rush of the holidays to begin; a buzz of activity at the Ibáñez household with all the comings and goings of meetings, appointments, the customary shows, however, the week ended on a sad note when we lost a dear friend, Thelma Greenbaum. News of her passing is covered in depth elsewhere in the newsletter to do it justice.
It is a beautiful sunny, breezy day, in the upper 60s here in South Florida. The palm fronds are waving outside my office window and the butterflies and bees are fluttering over the red flowers which are plentiful outside the window I face out of. It is one of those days where one could stare out into nothingness except for the beauty of mother nature and daydream about the wonders of nature and blessings in our lives.
And so, until next time….keep a dream in the making for you create your tomorrows by what you dream today.
Maria Ibáñez

IN THIS ISSUE
He's back…Millard Brooks/Billy Ray the Trailer Trash Magician
*Smoke and Mirrors*—Call for articles
Gustavo Lorgia to appear in *KDABRA*
Malaysia treated to the magic of Sonny Fontana and Ernesto Planas
Magic Touch well received — Great Scott! It is a new contributor
Special discount for Have you Heard? subscribers from Guy Bavli
FAB Magic launches new website
Legendary John Calvert has new website
Good and Welfare
Maryellen Douton hospitalized
Dick Laneau — update
BROKEN WANDS
Rev. Dr. John Booth
Thelma Greenbaum
Birthdays for the week
Mark Byrne (16)
Julio Caracciolo (21)
Victor Cephas (16)
Dick Dale (22)
Ed Parrish (22)
John Ritter (18)
Scott Wells (21)

HE'S BACK…MILLARD BROOKS/BILLY RAY THE TRAILER TRASH MAGICIAN
Billy Ray the Trailer Trash Magician is at it again. He recently performed at the 5th Annual Physicians Talent Show in Naples. FL. Follow the youtube link to view his comedy performance of Confessions of a Needle Swallower."
www.youtube.com/watch?v=XvxWv4fBvoo
Note from editor: If you haven't seen Dr. Brooks and his performances of Billy Ray, you have missed what is perhaps one of the most comical shows I have ever seen. Given an opportunity to see his show, you shouldn't hesitate, he is hilarious!

SMOKE AND MIRRORS — A CALL FOR ARTICLES
I'm currently preparing the November issue of Smoke & Mirrors. Please feel free to send me any announcements, articles or reviews you want to have posted. kismetmagic@hotmail.com
Angelo Stagnaro
Smoke & Mirrors

KDABRA TO OPEN WITH GUSTAVO LORGIA
Gustavo Lorgia, starting November 12th, will be appearing in 13 television episodes called "KDABRA". The magic concept for the show is a creation of Gustavo's. It is part of Fox International and will air simultaneously all over the Americas. Continued success to him in all his endeavors, including his upcoming shows of November 26–December 5th, in Lima, Peru.

MALAYSIA TREATED TO MAGIC OF SONNY FONTANA AND ERNESTO PLANAS
The man we can't easily see since he is now the Invisible Man better known to us as Sonny Fontana, and Ernesto Planas are on an extended performance engagement in Malaysia where they are delighting the audiences nightly. Here is a link to where you can see a video of Ernesto performing his unbelievable parasol act. I've heard the term raining cats and dogs but in Ernesto's case it's raining parasols. You must see it to believe it and to understand what I am talking about. Ernesto, a Cuban born magician who has been living in Italy for over a decade, has an award winning act that deserves watching. Kudos and continued successes to him.
http://www.youtube.com/watch?v=MGtkabznnm0

MAGIC TOUCH IS WELL RECEIVED – I AM HUMBLED BY  SUPPORT
What an incredible community we have in the magic one! Never in my wildest dreams would I have believed that my dream of that small publication called "The Magic Touch", titled after the heading of a newspaper article published about my magic life by the Miami Herald years ago, would be received with such loving and supported comments and with the obvious open arms it has been.
A mere 17 pages, including the introductory cover letter, for the first issue, I am convinced that the second issue will be much larger. My gratitude to those who hitched a ride on the dream and helped me with the first issue and my gratitude to those who continue to catch hold of that dream and jumping on board.
Contributions are coming in from some great minds of magic and I am excited about what this next issue will bring.
Please note: The first issue went out to all subscribers of this weekly newsletter, Have you heard?, it was then translated in its entirety and emailed to the list of the subscribers of Escucho?, the Spanish version of the newsletter.
I have now created a new mailing list called "MagicTouch" and those on that list, which includes you if you are receiving this, will receive each issue of the publication when it comes out. You now have a choice if you only wish to receive one or the other …. Have you heard comes out every Monday with weekly updates of magic happenings (as always we welcome your news at merlina17@aol.com), The Magic Touch is scheduled to come out quarterly for now but that may change due to the overwhelming requests to be published more often.
Again, thank you for all your support.

PRO-MAGIC OFFERS DISCOUNT TO HAVE YOU HEARD? SUBSCRIBERS
Pro–Magic proprietor, Guy Bavli, contacted me letting me know that effective this issue and until the end of the year, subscribers of this newsletter, Have you Heard?, will receive an additional discount when they place an order on the website. The secret to receiving the discount is to use HYH as the code for discount.
Visit Pro–Magic website at www.pro–magic.com

FAB MAGIC LAUNCHES NEW WEBSITE WITH A 20% DISCOUNT
20% off list price! Plus there are a few items where you will receive 20% off the sale Price! A 45% savings on selected items!
Now announcingfree shipping Continental USA on orders over $20.00 (minimum order $10.00)
What a deal! Just type in this customer coupon code when checking out: newsitelaunch
Happy Shopping! Each and every week we will be running specials on all types of magic, books and DVD's !
"Magic That is Simply FAB!"

LEGENDARY JOHN CALVERT HAS A NEW WEBSITE
The legendary John Calvert has just launched his new website. Photos, trailers and more in addition to a link to order his soon to be released new DVD.
Visit the site at : www.johncalvertmagic.com

GOOD AND WELFARE
Sunny in the hospital
The news in from Windy of Windy & Sunny letting us know that Sunny hospitalized. Here is what he sent:
Maryellen is in the hospital. She is the better half of the WINDY & SUNNY MAGIC SHOWS. She had an operationandfixed a problem but then found more trouble. Hopefully she will be home in about a week or so. We are waiting to hear what else may be wrong.We need all the prayers we can get.
Thank you,
Windy Douton
I had reported in the recent past about Dick Laneau and his health. I've just received an update from him as well as a call for help with the youth group. Here are the details of what he sent; please, if anyone is in that area and can help Dick with the SYM group, we would be very grateful. 
"It's great to receive your Have You Heard? emails and great to hear what is going on in the magic world.I've tried for over 15 years to find someone to take over SYM Assembly No.4 without success and we are down to only 3 to 4 people at our meetings, so I announced last month Assembly 4 would no longer meet after January1st.  GOD WORKS IN MYSTERIOUS WAYS. WE HAVE MET FOR THE PAST TWO YEARS AT VICTORY CHURCH OF THE NAZARENE IN ST PETERSBURG.Last month we got a new minister that moved here from Oklahoma and he has a 12 year old son crazy about magic. Last week I told him after church on Sunday I would spend an hour with him to teach him some magic as he already has said he will join the SYM.He showed up with FOUR of his school classmates, and now they are all interested in the SYM and want me to continue after the Jan 1st and they all promise to help get more kids involved.
I'm 79 and not in good health with my back healing very slow. The open hole had to be enlarged to eight inches by seven inches and that is too big to pull together to stitch so some skin was taken off my legs and thighs to try to cover part of the hole. but the doctor said it will be a good four more months before the skin will heal itself. The hole is now twice the size in the attachment because the day after the photos were taken I had to go back into the hospital to cut out a larger section to get the rest of the cancer and do a deeper skin graft.A nurse still comes every three days to change the bandages on my back and pack the hole with antibiotics and a treated special gauze.  IT IS NO FUN AND I AM NOT A HAPPY CAMPER."

BROKEN WANDS
Rev. Dr. John Booth 

1912-2009, passed away this past week. Very respected in the magic field, Dr. Booth started in the field at a very tender age while in his early teens. He was the organizer of conventions, a well known and sought after performer, a lecturer, a recipient of numerous awards including the Magic Circle's John Nevil Maskelyne Prize and was inducted into the S.A.M. Hall of Fame. His travels took him around the world. Dr. booth was a magic inventor, prolific writer with hundreds of articles to his name in many major publications as well as several books. Dr. Booth was also an ordained minister. His loss is an immeasurable one to the world of magic. May he rest in peace.
Thelma Greenbaum  1927-2009, passed away this past Friday, November 13th. 
With much more than just a heavy heart that I report on the passing of a kind and gracious lady that our family had the honor of calling our friend and that our sons called Aunt Thelma.She fought, for years, a battle with emphysema which finally won the battle this past Friday, November 13th. Thelma was a loving, giving soul who will be very badly missed in the South Florida magic scene and by all who were fortunate and blessed enough to meet her.She is survived by her loving and devoted husband of many decades, her sweetheart since she turned a teenager and through the days of WWII when he fought as a SGT in the Marine Corps, Iwo Jima era; Harold Greenbaum; daughter Rochelle Krakower; grandson Dr. Scott Krakower; and the youngest grandson Jonathan.Words fail when it comes to counting the numbers of those of us who were touched by her and the Greenbaum family and who will forever hold her in a dear place in our hearts.
¿Escucho? …
Noviembre 16, 2009
Por Maria Ibâñez
Saludos, a mediados de noviembre, una semana a el dia Acción de Gracias y las prisas de las vacaciones van a empezar, un murmullo de actividad en el hogar Ibâñez con todas las idas y venidas de las reuniones, citas, los shows habituales, sin embargo, la semana terminó con una nota triste cuando perdimos a una querida amiga, Thelma Greenbaum. La noticia de su muerte se cubre en profundidad en otra parte del boletín de noticias para poder hacerle justicia.
Es un hermoso día soleado y ventoso, en los 60 grados, aquí en el sur de la Florida. Las frondas de palmas están moviendose fuera de la ventana de mi oficina y las mariposas y abejas revoloteando sobre las flores rojas que abundan fuera de la ventana. Es uno de esos días donde uno puede mirar hacia la nada, excepto por la belleza de la madre naturaleza y soñar con las maravillas de la naturaleza y las bendiciones en nuestras vidas.
Y así, hasta la próxima vez, mantengan un sueño en elaboracion ya que crean sus mañanas con lo que el sueñan hoy.
Maria Ibâñez

EN ESTA EDICIÓN
Volvio … Millard Brooks/Billy Ray el mago basurero
* Smoke and Mirrors * Convocatoria de artículos
Gustavo Lorgia a aparecer en *KDABRA*
Malasia disfrutando la magia de Sonny Fontana y Ernesto Planas
Magic Touch bien recibido– Great Scott! Se trata de un nuevo contribuyente
Descuento especial para suscriptores de Escucho? por Guy Bavli
FAB Magic lanza nuevo sitio web
El legendario John Calvert tiene nueva página web
Salud y Bienestar
Maryellen Douton hospitalizada
Dick Laneau nuevas noticias
VARITAS ROTAS
Rev. Dr. John Booth
Thelma Greenbaum
Cumpleaños de la semana
Mark Byrne (16)
Julio Caracciolo (21)
Víctor Cephas (16)
Dick Dale (22)
Ed Parrish (22)
John Ritter (18)
Scott Wells (21)

VOLVIO … MILLARD BROOKS / BILLY RAY EL MAGO BASURERO
Billy Ray el Mago Basurero volvio. Se realizó recientemente en el 5 º Show de Talento de Los médicos en Nápoles. FL. Siga el enlace youtube para ver su rendimiento de la comedia Confesiones de un Devorador de agujas ".
www.youtube.com/watch?v=XvxWv4fBvoo
Nota del editor: Si no has visto al Dr. Brooks y sus actuaciones de Billy Ray, se ha perdido lo que es quizás uno de los espectáculos más cómico que he visto. Si tiene la oportunidad de ver su show, no deberías dudar en hacerlo, es hilarante!

HUMO Y ESPEJOS — UN LLAMADO A LOS ARTÍCULOS
Actualmente estoy preparando la edición de noviembre de Smoke & Mirrors. Por favor, siéntase libre de enviarme cualquier tipo de anuncios, artículos o comentarios que desea sean publicados. kismetmagic@hotmail.com
Angelo Stagnaro
Smoke & Mirrors

KDABRA ABRIRA CON GUSTAVO LORGIA
Gustavo Lorgia, a partir de 12 de noviembre, aparecerá en 13 episodios de televisión llamadoS KDABRA. El concepto de la magia Y del espectáculo es una creación de Gustavo. Es parte de Fox International y saldrá al aire simultáneamente en toda America. El éxito continuado a él en todos sus esfuerzos, incluyendo su próxima actuacion de 26 noviembre a 5 diciembre, en Lima, Perú.

MALASIA DISFRUTANDO MAGIA DE SONNY FONTANA Y ERNESTO PLANAS
El hombre que no puede verse fácilmente ya que él es ahora el hombre invisible, mejor conocido por nosotros como Sonny Fontana, y Ernesto Planas están en un contrato de entretenimiento en Malasia, donde están deleitando al público todas las noches. Aquí hay un enlace a donde se puede ver un video de Ernesto realizando su acto de parasoles que es increíble. He oído el dicho que dice que esta lloviendo gatos y perros, pero en el caso de Ernesto lo que llueve son sombrillas. Usted debe ver para creer y entender lo que estoy hablando. Ernesto, un mago nacido en Cuba que ha vivido en Italia durante más de una década, tiene un galardonado acto que merece ver. Kudos y continuos éxitos a él.
http://www.youtube.com/watch?v=MGtkabznnm0

MAGIC TOUCH ES BIEN RECIBIDO Y ME SIENTO HUMILDE POR SU APOYO
Lo que una comunidad increíble que tenemos en la magia! Nunca en mis sueños más remotos hubiese creído que mi sueño de esa pequeña publicación llamada El Toque Magico, llamado asi por título de un artículo periodístico publicado sobre mi vida en la magia hace varios años en el Miami Herald, sería recibido con tan amorosos comentarios de apoyo y con los brazos abiertos como evidentemente ha sido.
A sólo 17 páginas, incluyendo la carta de introducción, en la primera edicion, estoy convencida de que el segundo número será mucho mayor. Mi gratitud a los que se adjuntaron a el sueño y me ayudaron con la primera, y mi gratitud a aquellos que continúan agarrandose de ese sueño y uniendose a el.
Contribuciones de ellas vienen de algunas grandes mentes de la magia y estoy muy contenta de lo que esta próxima edición traerá.
Atención: El primer número salió a todos los suscriptores de este boletín de noticias semanal, ¿Escuco?, Que fue traducido en su totalidad despues de ser enviado por correo electrónico a la lista de los suscriptores de Have you Heard?, La versión en Ingles del boletín.
Ahora he creado una nueva lista de correo llamada *Toque de Magia* y los que en esa lista, que incluye a usted si está recibiendo este, recibirán cada número de la publicación cuando sale. Ahora tiene una opción si usted sólo desea recibir uno o el otro. ¿Escucho? que sale todos los lunes, con actualizaciones semanales de los acontecimientos de la magia (como siempre, damos la bienvenida a tus noticias en merlina17@aol.com), El Toque Magico está programado para salir trimestralmente por ahora, pero esto puede cambiar debido a las demandas abrumadoras de ser publicado con más frecuencia.
De nuevo, gracias por todo su apoyo.

DESCUENTO ESPECIAL PARA SUSCRIPTORES DE ESCUCHO? POR GUY BAVLI
El proprietario de Pro-Magic, Guy Bavli, se ha puesto en contacto conmigo haciéndome saber que desde ahora hasta fin de año, los suscriptores de este boletín, ¿Escucho?, recibirán un descuento adicional cuando se realiza un pedido en la web. El secreto para recibir el descuento es utilizar HYH como el código de descuento.
Visite la página web Pro-Magic en www.pro-magic.com

FAB MAGIC LANZA NUEVO SITIO WEB CON UN 20% DE DESCUENTO
20% de descuento! Además, hay algunos artículos donde se recibirá el 20% de descuento en el precio de venta! Un ahorro del 45% sobre los temas seleccionados!
Ahora con envios gratis en el continente de Estados Unidos para pedidos superiores a $ 20,00 (pedido mínimo $ 10.00)
Que buen negocio! Sólo tienes que escribir en este código de cupón de los clientes al momento de pagar: newsitelaunch
Felices compras! Todas las semanas vamos a estar ejecutando especiales en todos los tipos de magia, libros y DVD's!
"Magia que es simplemente FAB!"

EL LEGENDARIO JOHN CALVERT TIENE UNA NUEVA PAGINA WEB
El Legendario John Calvert acaba de lanzar su nueva página web. Fotos, trailers y más, además de un enlace a fin de su nuevo DVD que se lanzará pronto.
Visite el sitio en: www.johncalvertmagic.com

SALUD Y BIENESTAR
Sunny en el hospital
Ha llegado noticia de que Sunny de Windy & Sunny haciéndonos saber que Sunny esta hospitalizada. Esto es lo que envió:
Maryellen está en el hospital. Ella es la mejor mitad de la Windy & SUNNY Shows de magia. Ella recibio una operacion que arreglo un problema, pero luego encontró más problemas. Esperemos que estara en casa en una semana o así. Estamos esperando para enterarnos de lo que puede pasarle. Estamos en necesidad de todas las oraciones que podamos conseguir.
Gracias,
Windy Douton
DICK LANEAU SIGUE ENFERMO
Yo había informado en el pasado reciente sobre Dick Laneau y su salud. Acabo de recibir una actualización de él, así como una llamada de ayuda con el grupo de jóvenes. Aquí están los detalles de lo que le envió, por favor, si alguien está en esa zona y puede ayudar a Dick con el grupo de SYM, estaríamos muy agradecidos.
Es genial recibir su Escucho? y me agrada escuchar lo que está sucediendo en el mundo de la magia. Yo he intentado durante más de 15 años encontrar alguien que asuma el SYM N º 4 de la Asamblea, sin éxito, y nos quedan sólo 3 a 4 personas en nuestras reuniones, por lo que anuncie el mes pasado de la Asamblea 4 que ya no nos reuniriamos después de Enero primero. Dios trabaja en formas misteriosas. Nos hemos reunido durante los últimos dos años en la IGLESIA EN LA VICTORIA DEL NAZARENO EN ST PETERSBURG. Este mes tuvimos un nuevo ministro que se mudaron aquí desde Oklahoma y tiene un hijo de 12 años loco por el arte de la magia. La semana pasada le dije después de la iglesia el domingo que me gustaría pasar una hora con él para enseñarle algo de magia como ya ha dicho que se unirán a la SYM. El se presentó con cuatro de sus compañeros de la escuela, y ahora todos están interesados en el SYM y quieren continuar después del 1 de enero y todos prometen ayudar a más niños a involucrarse.
Ya tengo 79 y no en buen estado de salud con mi curación de nuevo muy lento. El agujero abierto tuvo que ser ampliado a ocho pulgadas de siete pulgadas y que es demasiado grande para cerrar a puntos por lo que se tomó la piel de mis piernas y los muslos para tratar de cubrir parte del agujero. pero el doctor dijo que será al menos cuatro meses antes de que la piel se cure a sí mismo. El agujero es ahora el doble de tamaño en el archivo adjunto, porque el día después de que se tomaron las fotos tuve que volver al hospital para cortar una sección mayor para obtener el resto del cáncer y hacer más profunda La enfermera todavía viene cada tres días para cambiar los vendajes en la espalda y el paquete del agujero con antibióticos y un tratamiento especial con gazas. gauze. Esto no es divertido y no estoy feliz!

VARITAS ROTAS
Rev. Dr. John Booth, 1912-2009, falleció la semana pasada. Muy respetado en el ámbito de la magia, el Dr. Booth inició en el campo de la magia a una edad muy tierna, mientras en su adolescencia. Fue el organizador de convenciones, una conocida y buscada artista intérprete o ejecutante, un professor, un recipiente de numerosos premios, incluyendo el Premio John Nevil Makelyne de el Circulo de Magia de Londres, y fue incluido en el SAM en el Salón de la Fama. Sus viajes lo llevaron por todo el mundo. Dr. Booth fue un inventor de magia, escritor prolífico, con cientos de artículos a su nombre en muchas publicaciones importantes, así como varios libros. Dr. Booth fue también un ministro ordenado. Su pérdida es uno inconmensurable para el mundo de la magia. Que descanse en paz.
Thelma Greenbaum, 1927-2009, falleció el pasado viernes, 13 de noviembre.
Con mucho más que sólo un corazón apesadumbrado me veo informandoles sobre la perdida de una amable y gentil dama que nuestra familia tuvo el honor de llamar nuestra amiga y que nuestros hijos llamaban tía Thelma. Ella lucho durante años, una batalla con enfisema, que finalmente ganó la batalla el pasado viernes, 13 de noviembre. Thelma fue una mujer amorosa, una linda alma que se perdió y que mucho vamos a hechar de menos en el mundo de la magia en el sur de la Florida y que sera una gran perdida para todos los que tuvieron la suerte y bendicion suficiente para conocerle. A ella la sobreviven su esposo cariñoso y dedicado de muchas décadas, su novio desde que fue una adolescente y durante los días de la Segunda Guerra Mundial, cuando luchó como Sgt., en la Infantería de Marina, era de Iwo Jima, Harold Greenbaum, hija Rochelle Krakower; nieto el Dr. Scott Krakower y el nieto mas joven, Jonathan. Las palabras fallan cuando se trata de contar el número de los que fueron tocados por ella y la familia Greenbaum y que siempre la tendrán en un lugar especial en sus corazones.
El amor por la familia Greenbaum era claramente visible en el funeral. El más grande yo he asistido en mi vida, donde había poco menos de 200 personas, incluyendo un gran número que voló desde alrededor de los EE.UU. para asistir. Descansa en paz querida amiga.
CUMPLEAÑOS DE LA SEMANA
Mark Byrne (16)
Julio Caracciolo (21)
Víctor Cephas (16)
Dick Dale (22)
Ed Parrish (22)
John Ritter (18)
Scott Wells (21)
Feliz cumpleaños a ti,
Feliz cumpleaños a ti,
Feliz cumpleaños queridos amigos
Feliz cumpleaños a ti!
Y que usted celebre muchos, muchos más.

BIRTHDAYS FOR THE WEEK
 Mark Byrne (16)  Julio Caracciolo (21)  Victor Cephas (16)
Dick Dale (22)  Ed Parrish (22)  John Ritter (18)
Scott Wells (21)
Happy birthday to you,
Happy birthday to you,
Happy birthday dear friends
Happy birthday to you!
And may you celebrate many, many more.