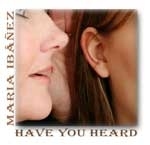 Have You Heard?…
May 3, 2010
by Maria Ibâñez 
Greetings, hard though it seems to believe, we are almost half a year into 2010 and Mothers Day is this Sunday, at least here in the United States.  Please allow me to take this opportunity to wish all the mothers out there a wonderful day full of love and happiness.  
 Jay and I will be unable to be in Palatka with our son and his family because we are officers in the Elks Lodge and there is a mandatory ritual which is held in honor of mothers on Mothers Day.   Said ritual includes a brunch and since this is held early in the morning, we will be celebrating the day with my own mother and family after lunch here in our home.   Orlando is unable to be down with us because he is still in training for the Wounded Warrior program so I will be without either one of the boys or the grandbaby this year. 
Next week we will be in Jacksonville attending the McBride show and workshop which is being hosted by the IBM Ring 170.   We are excitedly looking forward to spending time with Jeff as well as with our friends Simone and Travis.   A quick turn around and the week after that will see Jay in Atlanta then flying down to Mexico City where he will meet up with me as we attend the Abrakadabra Convention.  We feel like the jetsetters. 
Until next time my friends, keep a dream in the making for you create your tomorrows by what you dream today.  
Maria Ibáñez
THOUGHT FOR THE WEEK
IN THIS ISSUE
3 Arrested in killing of 19 year old magician
MAGICIAN'S LIFE
Appletell reviews the Kymera Magic Wand IR remote
Nikola Tesla, Forgotten Magician
S.A.M. NEWS
Johnny Ace Palmer booked for Atlanta
AROUND FLORIDA
Melbourne Florida
MAGIC ELSEWHERE
Magic Meting – La Plata
GOOD AND WELFARE
Rachel Wild
BROKEN WAND
Al Meyer
BIRTHDAYS FOR THE WEEK
Michael Bonacci (8)
Marlene Clark (3)
Charlie Fenn (5)
Nicolas Gignac (8)
Brian Glow (4)
Mago Jaramy (4)
Sam Martin (3)
Circe Martinez (3)
Robert Strong (7) 
THOUGHT FOR THE WEEK 

"Keep me away from the wisdom which does not cry, the philosophy which does not laugh and the greatness which does not bow before children"
-Kahlil Gibran

IN THIS ISSUE 
3 arrested in killing of 19-year-old magician known as 'El Magnifico'
May 1, 2010 |  8:12 am
Adrian Ramos was only 19, but he was already making a name for himself as a magician: El Magnifico. He performed at Hollywood's Magic Castle at age 9 and had also made TV appearances, including on "The Tonight Show with Jay Leno."
But on Wednesday, as he was walking home from a class at Fullerton College with a guitar strapped on his back, he was approached by a group of men.  According to Anaheim police, he was gunned down in a robbery
Source
http://latimesblogs.latimes.com/lanow/2010/05/3-
arrested-in-killing-of-magician-known-as-el-magnifico.html
First Annual Fantasma Magic Auction
Message from Roger Dreyer 
The Latest. The Greatest. The Oldest. The Rarest. All for sale to the highest bidder! Whether you're looking to buy that elusive illusion. or looking to sell you're one-of-a-kind card trick.
Fantasma has you covered! Do some Spring cleaning. Clear out your closets. Unload some magic to make room for more! This is not fundraiser. This is not for a charity. This is for the magic community to spend some time together, collect great magic, make some money and have some fun! 
Admission is FREE, all are welcome to attend, seating is on a first come-first serve basis – however, this is a PRIVATE event only members of the magic community will be allowed to bid. or have items up for sale. Phone Bids will NOT be allowed, but bidding by proxy is acceptable. 
Buyers: a partial catalog of items on the block will be made available one week before the auction. The catalog will include a complete description and a photo. 
Sellers: We don't care if your items are new or old as long as it is of interest to other magicians. Auction Fees are 20% of price realized or 10% for items over a thousand dollars. To have youritem be considered for the auction you must contact Nelson Lugo at 212.244.3633 or nelson@fantasmamagic.com with the Your Name, the Item, Item Name, Your Minimum, Current Value and Condition. Items brought after May 1st and up to the day of the auction will be placed in the second half of the event. 
Have A Fun Time At Fantasma! 
FAQ
How are you determining who can attend?
The event is open to everyone and there is no admission fee; however, only members of the magic community will allowed to bid… or have items up for auction 
Will the auction be online as well?
No, this particular event is an in-shop only auction. However, Fantasma does occasionally offer various items up for bid on EBay. Also, phone bids will NOT be allowed, but bidding by proxy is acceptable 
Will there be an online catalog?
There are no plans for an online catalog – a partial catalog will be printed and made available one week before the auction. The catalog can emailed if you are unable to get to the shop prior to May 2nd. 
Is there a minimum value for an Item to be entered into the auction?
There is no minimum value for inclusion in the auction – however, please note that auction fees are 20% of price realized (or 10% for items over a thousand dollars)
 Just curious, how to you vet bidders?
Well, between all of us here at the shop, we know all of the NYC magician's and the magic notables from around the country. I suppose if you're coming in from out-of-state and no one here knows you… someone could vouch for you, or you could shows us a club member ID, business card or even perform a classic pass 😉 
Given this era of EBay, why charge a 20% fee, is there something I am missing?
Well, EBay can afford lower fees because of the shear volume of items being sold every day, there are thousands of transactions happening ever hour. From what I can tell 20% is the standard fee for live-in-person auction. 
Do you provide advice about suggested reserves and estimate final values?
This event is a pretty causal affair and no one here is an expert (except for the shop owner Roger). A simple Google search could help in most situations. Also, please bear in mind that the condition of your item will affect the price. 
Fantasma Magic
421 7th Avenue – 2nd Floor
New York, NY 10001
212 244-3633 
Please visit our website to see the latest magic items.
www.Fantasmamagic.com
Thank you for your support!

MAGICIANS LIFE
 Appletell reviews the Kymera Magic Wand IR remote
by Jake Gaecke
The idea behind the Kymera Magic Wand is really quite novel; the ability to control your TV with just the flick of a wand. Wands are synonymous with control, making them perfect for working a TV or other IR device. It doesn't hurt that most of us have been entranced with them since childhood with entertainment from Disney all the way to Harry Potter.  And in practice, it's truly magic, or at least the kind of magic that your standard magician would perform, making it perfect for kids and the young at heart. 
Source:
http://www.appletell.com/apple/comment/
appletell-reviews-the-wand-company-ir-kymera-magic-wand/
Source for the Kymera Wand
http://thewandcompany.com/Buying.html
Nikola Tesla, Forgotten Magician
Posted by Sidian M.S. Jones


His name does not ring through the history books. He is not famous, celebrated, or otherwise widely known. Like all great magicians, he has all but disappeared. But not before dazzling the minds of his time and the minds of those who would pursue his great and mysterious work in this modern day. His name was Nikola Tesla, a God of science. Born in 1856 Tesla can be marked responsible for alternating current (as in AC and DC), wireless communication, the electric motor, basic lasers and radar, x-rays, neon, robotics, remote control, cellular technology, and even had developed plans for tactical warfare in space. All of this taking place over one hundred years ago.
He died alone, in poverty in a New York hotel room at the age of 86. A man who was known to sit casually in the midst of crackling arch-lightning like a proud, ingenious animal, sometimes reading a book as if he were at home among his electric storms. A display, which struck fear in others, was to him an abstract comfort.
And although he had achieved reverence among the rich and glamorous in his younger years in New York, his fame was jealously frowned upon by one very rich and very famous fellow God of science. Thomas Edison.
Source:
http://www.opensourcereligion.net/profiles/blogs/nikola-tesla-forgotten
S.A.M. NEWS
 Johnny Ace Palmer will be doing a "hard core"  lecture for the Society of American Magicians
convention June 30 – July 4 at the Atlanta Hilton.   This brings to the total to EIGHT lectures at the event.
Further details at 
www.magicsam.com
AROUND FLORIDA 
Brevard Area
 Here are some dates that we have coming up here in the Brevard County Area. (Melbourne, Palm Bay) 
We have Chris Capehart coming for a lecture and show on May 10th, Show at 6:30pm and lecture afterwards. He will be entertaining the children of Servicemen. See our website at www.spacecoastmagicclub.org for more info or call John Anderson at 321 698-2398. 
We have Jeff McBride coming to do a Show, lecture and a workshop the next day on June 8th and 9th. For Tickets and info go to our website or to the Magic Dove Magic Shop website. 
You might want to hold off telling about the Jeff McBride event until after the Jacksonville event. 
John Anderson
President of Space Coast Magic Club
Ring 188, Assembly 198
Melbourne, FL
MAGIC ELSEWHERE 
MAGIC MEETING –  LA PLATA 2010 
A meeting of CHAMPIONS
It is named this because so many World Winners will be coming together at one meeting 
ADRIAN GUERRA – 1994 FISM Winner in Card Magic
CARLOS BARRAGAN – 1997 FISM Winner in Large Illusions
HENRY EVANS – 2000 FISM Winner in Card Magic
ARISTON, 2000 FISM Second Place For Invention
TONY MONTANA – 2000 FISM Third Place Winner in Mentalism  
They will be there in lectures, gala and as dealers.    
There will be, as there always has been, closeup and stage competitions where the winners will be awarded registration to other conventions in the country and to the next FLASOMA which is to be held in Guatemala. 
We will have lectures, gala shows and aisles full of magic at the Centro Cultural Pasaje Dardo Rocha, and City Hall. 
Space is limited.   The cost is $150 for registrants and $200 for dealers.   This is a good place to come and reconnect with friends, learn from world champions and enjoy the magic. 
Further details
www.pinaculomagico.com.ar
GOOD AND WELFARE 
Rachel Wild Colombini
Aldo and Rachel have been on an extensive European tour, currently in the UK. Rachel, who suffers from a longstanding heart condition, was hospitalized two days ago there and the doctors have confirmed that she is having a life threatening case of the heart infection "endocarditis" and is suffering from embolisms in her feet.
They have been able to secure a flight home this coming Sunday ( May 2) and there are cardiologists on standby in Tampa awaiting their arrival. They are going to attempt to put an intravenous line into her heart for a number of weeks and she will receive daily infusions via that intravenous line.
UPDATE:  They are back in Florida after a 25+ hour trip from England to Tampa.  Rachel is in the hospital and will be having a procedure tomorrow (Tuesday) for which she will be undergoing anesthesia; the doctors will be check for any valve damage and how extensive this endocarditis is.  The latter part of this week she will have the intravenous line put in her heart so that she can receive the daily infusions.
Her color is much better and Aldo says she looks better than she has been.  She is in good spirits and sends everyone her regards and her thanks for all your get well wishes and the beautiful emails you've sent me which I have made reach them.  Both she and Aldo send their gratitude for your prayers.
BROKEN WAND 
It is with a heavy heart that I report on the passing of Al Meyer.   The sad news comes through Harold Greenbaum who phoned to let us know.
 Al was instrumental in the starting of the Magic Luncheons in Ft. Lauderdale and will be sorely missed by all who knew him. 
Services were held at 3:00 P.M. on Monday, May 3, 2010 at Star of David Memorial Garden, 7701 Bailey Road, Ft. Lauderdale, Florida  (954) 722-9000. 
Al Meyer was a quiet, unassuming man who touched countless hearts and made a difference in the life of anyone he came in contact with.   Deepest condolences to his family and friends.   May he rest in peace. 
BIRTHDAYS FOR THE WEEK
Michael Bonacci (8)  –  Marlene Clark (3)  –  Charlie Fenn (5)
Nicolas Gignac (8)  –  Brian Glow (4)  –  Mago Jaramy (4)
Sam Martin (3)  –  Circe Martinez (3)  –  Robert Strong (7)
 Happy birthday to you,
Happy birthday to you,
Happy birthday dear friends
Happy birthday to you.
¿Escucho? …
Mayo 3, 2010
por Maria Ibáñez
Saludos, aunque parece difícil de creer, estamos casi medio año después de 2010 y Día de la Madre es este domingo, al menos aquí en los Estados Unidos. Permítanme aprovechar esta oportunidad para desear a todas las madres un día maravilloso lleno de amor y felicidad.
Jay y yo no podremos estar en Palatka con nuestro hijo y su familia porque somos oficiales en la Logia Elks y hay un ritual obligatorio que se celebra en honor a las madres en Día de la Madres. Dicho ritual incluye un almuerzo y ya que este se lleva a cabo temprano en la mañana, vamos a celebrar el día con mi propia madre y la familia después de la comida aquí en nuestra casa. Orlando no podra estar con nosotros, porque él todavía está en entrenamiento, así que no podremos estar con los hijos e el nieto este año.
La próxima semana estaremos en Jacksonville asistirán al espectáculo McBride y el taller que está siendo organizada por el Ring de IBM 170. Estamos esperando con entusiasmo a pasar tiempo con Jeff, así como con nuestros amigos de Simone y Travis. Una vuelta rápida y la semana después vera a Jay en Atlanta luego volara a Ciudad de México donde se reunirá conmigo para asistir a la Convención Abrakadabra. Nos sentimos como la jet set
Hasta la próxima amigos, mantengan un sueño en elaboracion ya que crean sus mañanas con lo que sueñan hoy.
Maria Ibáñez
PENSAMIENTO DE LA SEMANA
EN ESTA EDICIÓN
VIDA DE MAGOS
S.A.M. NOTICIAS
Salute to Magic AGOTADO
ALREDEDOR DE LA FLORIDA
Festival de Daytona de la Magia / Magos Convención de la Florida
SALUD Y EL BIENESTAR
Rachel Wild Colombini
BROKEN WAND
Al Meyer
CUMPLEAÑOS DE LA SEMANA
Michael Bonacci (8)
Marlene Clark (3)
Charlie Fenn (5)
Nicolas Gignac (8)
Brian Glow (4)
Mago Jaramy (4)
Sam Martin (3)
Circe Martinez (3)
Robert Strong (7)
PENSAMIENTO DE LA SEMANA
"Protegedme de la sabiduría que no llora, de la filosofía que no ríe y
de la grandeza que no se inclina ante los niños"
-Kahlil Gibran
EN ESTA EDICIÓN
S.A.M. Noticias
Johnny Ace Palmer va a hacer un "núcleo duro" conferencia de la Sociedad Americana de Magos
Convenio 30 junio-4 julio en el Hilton Atlanta. Esto eleva a un total de ocho conferencias en el evento.
Más detalles en
VIDA DE MAGOS
Appletell comentarios Kymera la varita mágica a distancia por infrarrojos
por Jake Gaecke
La idea detrás de la Varita Mágica Kymera es realmente novedosa, la habilidad para controlar su TV sólo con el simple accionamiento de un tubo. Las varitas son sinónimo de control, que las have perfectas para trabajar un televisor u otro dispositivo de rayos infrarrojos. El 't del doesn daño que la mayoría de nosotros hemos estado en trance con ellos desde la infancia con el entretenimiento de Disney hasta el final de Harry Potter. Y en la práctica,? S verdaderamente mágico, o al menos el tipo de magia que su mago estándar que funcione, lo que es perfecto para los niños y los jóvenes de corazón.
Fuente:
http://www.appletell.com/apple/comment/
appletell-comentarios-el-tubo-empresa-ir-Kymera-varita mágica /
Fuente para el Kymera Wand
http://thewandcompany.com/Buying.html
Nikola Tesla, olvidado Mago
Publicado por obsidiana M.S. Jones
Su nombre no suena a través de los libros de historia. Él no es famoso, que se celebra, o no muy conocida. Como todos los grandes magos, que casi ha desaparecido. Pero no antes de las mentes deslumbrantes de su tiempo y las mentes de aquellos que persiguen su obra grande y misterioso en esta era moderna. Su nombre era Nikola Tesla, un Dios de la ciencia. Nacido en 1856 Tesla se pueden marcar responsible de corriente alterna (como en AC y DC), comunicación inalámbrica, el motor eléctrico, el láser y el radar de base, los rayos X, el neón, la robótica, control remoto, tecnología celular, e incluso había elaborado planes para la guerra táctica en el espacio. Todo esto tiene lugar have más de cien años.
Murió solo, en la pobreza en una habitación de hotel de Nueva York a la edad de 86 años. Un hombre que era conocido casualmente a sentarse en medio de crujidos arco-rayo como un animal orgulloso, ingeniosa, a veces la lectura de un libro como si estuviera en su casa entre sus tormentas eléctricas. Una pantalla, que atemorizaba a los demás, era para él un consuelo abstracto.   Y a pesar de que había logrado respeto entre los ricos y famosos en sus años jóvenes, en Nueva York, su fama estaba bien visto en celosamente por un muy rico y muy famoso colaboradores de Dios de la ciencia. Thomas Edison.
Fuente:
http://www.opensourcereligion.net/profiles/blogs/nikola-tesla-forgotten
ALREDEDOR DE LA FLORIDA
Zona de Brevard
Éstos son algunos de las fechas que tenemos por venir aquí en el área del Condado de Brevard. (Melbourne, Palm Bay)
Tenemos Chris Capehart viene para una conferencia y muestra el 10 de mayo, a las 6:30 pm Show y una conferencia después. Él será entretener a los niños de militares. Vea nuestro sitio web en www.spacecoastmagicclub.org para más información o llame a John Anderson en 321 698-2398.
Tenemos Jeff McBride venir a hacer un show, conferencia y un taller el próximo día 08 de junio y 9 º. Para boletos e información visite nuestra página web o sitio web de la Paloma Magic Magic Shop.
Es posible que desee mantener fuera de decirle sobre el evento Jeff McBride hasta después del evento Jacksonville.
John Anderson
Presidente de Costa Espacial de Magic Club
Ring 188, 198 de la Asamblea
Melbourne, FL
MAGIA EN OTRAS PARTES
ENCUENTRO MÁGICO LA PLATA 2010 ,
                      un Encuentro de CAMPEONES
Ese es el nombre porque  por primera vez …………………………………………
     LOS GANADORES MUNDIALES ESTARÁN JUNTOS EN UN  ENCUENTRO
ADRIÁN GUERRA. Campeón Mundial FISM 1994 en Cartomagia
CARLOS BARRAGAN, Campeón Mundial FISM 1997  G. Ilusiones
HENRY EVANS. Campeón Mundial  FISM 2000. en Cartomagia
ARISTON, Segundo Puesto  FISM 2000 en Invencion
TONY MONTANA Tercer Puesto  FISM 2009 en Mentalismo
Estarán en Conferencia, Gala y Dealers
Este año, como siempre habrá competencias de Close Up  y  Salón, donde los primeros puestos ganaran  becas para Congresos en nuestro país, y para el próximo FLASOMA, a realizarse en Guatemala.
Conferencias , Galas y todos los Pasillos llenos de Magia, en el Centro Cultural Pasaje Dardo Rocha, y en el Palacio Municipal.
El espacio de este año esta algo restringido, quería invitarte personalmente, sobretodo cuando el valor total es de $ 150. y  de $ 200 para Dealers, estimamos concurrencia
Un muy buen motivo para reencontrarse con amigos, APRENDER a lo grande con los CAMPEONES MUNDIALES.  Y disfrutar de  esa locura que es…..
LA MAGIA.
Para mas datos entra a
www.pinaculomagico.com.ar
SALUD Y EL BIENESTAR
Rachel Wild Colombini
Aldo y Rachel han estado en una extensa gira Europea, actualmente en el Reino Unido. Rachel, que sufre de una enfermedad del corazón desde have mucho tiempo, fue hospitalizada have dos días y los médicos han confirmado que ella está teniendo un caso de la infección del corazón "endocarditis" y está sufriendo de embolias en sus pies.
Ellos han sido capaces de asegurar un vuelo a casa el próximo domingo y hay cardiólogos en estado de alerta en Tampa en espera de su llegada. Ellos van a tratar de poner una línea intravenosa en su corazón por un número de semanas y ella recibirá infusiones diarias a través de dicha línea intravenosa.
ACTUALIZAR:   Ellos están de vuelta en la Florida después de un viaje 25 + horas desde Inglaterra a Tampa. Rachel está en el hospital y va a tener un procedimiento mañana (martes) por la que se sometera a la anestesia, los médicos comprobaran que no existen daños de la válvula y qué tan extensa es la endocarditis. A finales de esta semana tendrá la línea intravenosa puesta en su corazón para que ella pueda recibir las infusiones diarias.
Su color es mucho mejor y Aldo dice que ella se ve mejor de lo que ha luciso. Ella está de buen ánimo y envía a todos sus saludos y su agradecimiento por todos sus buenos deseos  Tanto ella como Aldo envian su gratitud por sus oraciones.
VARITA ROTA
Es con el corazón apesadumbrado que le informo sobre el fallecimiento de Al Meyer. La triste noticia llega a través de Harold Greenbaum que llamó por teléfono para informarnos.
Al fue instrumental en el inicio de las Comidas de Magia en Ft. Lauderdale y echaremos mucho de menos por todos los que lo conocieron.
Servicios se llevaron a cabo a las 3:00 pm el Lunes, 03 de mayo 2010 en el Star de Jardín Memorial David, 7701 Bailey Road, Fort. Lauderdale, Florida (954) 722-9000.
Al Meyer era un hombre callado y humilde que ha tocado el corazón incontables e hizo una diferencia en la vida de cualquier persona que se puso en contacto con. Más sentido pésame a su familia y amigos. Que descanse en paz.
CUMPLEAÑOS DE LA SEMANA
Michael Bonacci (8) – Marlene Clark (3) – Charlie Fenn (5)
Nicolas Gignac (8) – Resplandor Brian (4) – Jaramy Mago (4)
Sam Martin (3) – Circe Martínez (3) – Robert Fuertes (7)
Feliz cumpleaños a ti,
Feliz cumpleaños a ti,
Feliz cumpleaños a todos
Feliz cumpleaños a ti.