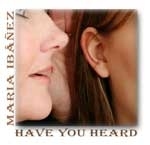 Have You Heard?…
June 21, 2010
by Maria Ibâñez 
Greetings, hope everyone had a beautiful Father's Day with the fathers in your lives. We were home
and spent the special day with my dad, uncle our youngest son and his family and some close family friends.   It was a beautiful if sad day; we lost our precious Bibi after a valiant fight with congestive heart failure, diabetes, blindness and finally an intestinal blockage which ultimately claimed her life. We were blessed to have had her as such an important part of our family for 14 years.
Difficult writing this week as my heart is heavy and my thoughts are being evasive.   It is often said that "the show must go on", and so too will the weekly email.  I know you, my friends, will understand how I feel. 
Jason, Idalmis and the baby were here for father's day and we find it difficult to believe how quickly Elijah is growing.  He is such a happy boy and such a delightful bundle of joy.  The house is that much emptier when they leave but we know we will see them again soon when we are able to go up to Palatka again.   Only having Orlando down here would have completed the circle and would have made the day complete. 
Until next time my friends, keep a dream in the making for you create your tomorrows by what you dream today.  
Maria Ibáñez

THOUGHT FOR THE WEEK
IN THIS ISSUE
RACHEL'S CORNER
MAGICIAN'S LIFE
Jason Latimer's high tech illusions in Tropicana show
The Illusionist
Magician Stuns Audience
Magician's Code and Fathers Day
CONVENTIONS ELSEWHERE
GOOD AND WELFARE
BROKEN WAND
BIRTHDAYS FOR THE WEEK
Michael Ammar (25)
Mago Belinko (23)
Drew Vincent Breen (21)
Julio Cesar (22)
Cody Clark (22)
Chubster Flores (23)
Sandy Liebowitz (23)
Douglas Lippert (25)
Mago Monterrey (22)
Hansel Perdomo (27)
Terry Runyon (21)
Montana Santa (John Degel) 27)
Julie Sobanski (23) 
THOUGHT FOR THE WEEK


"Begin doing what is necessary.  Nex to what is possible and soon
you will be doing the impossible."
St. Francis of Assisi
IN THIS ISSUE 
Joshua Jay welcomed in Miami 
Thursday June 24, 2010
Miami welcomes Joshua Jay, in his only South Florida appearance, for a lecture.   The lecture will be $10.00 at the door for paid members of either Magic City Conjurers or I.B.M. Ring45; all others will pay $15.00.
Come one, come all, you won't want to miss this lecture.
See you there!

Adele Friel Rhindress
Adele Friel Rhindress, a.m.a. (Antique Magician's Assistant), also known as Blackstone's "Elusive Moth," will be a featured guest on CreativityAtSea.com 2011.  Adele traveled around the United States and Canada, by railroad train, with Harry Blackstone in the late 1940s, and has many stories about "how it was on the road with a major Magician" sixty plus years ago. 
Adele has agreed to a once in a lifetime presentation for 2011 cruisers where she will share her own history and love of magic.  Terry Evanswood, one of the foremost collectors and lovers of magic's history, will be our tour guide as we see into Adele's joy as well as extremely rare footage of the Blackstone show you'll ONLY be able to see at CreativityAtSea.com 2011.  If you love magic and the history of the art you will have a lifetime memory after this event.  Even if you're not a history buff you will love the interaction between Terry and Adele and you can't see this at any other conference on LAND, or sea for that matter.  Only at Creativityatsea.com 2011. 
VISIT
www.creativityatsea.com

Not much happening right now, the direct infusion line has been removed and we had a consultation with the allergy specialists for the penicillin and it has been decided to delay testing as a severe reaction could occur and land me back in the hospital so we will delay testing until the body recovers enough from the infection and also will consult with doctors further regarding the safety of testing.
On a lighter note Aldo suggested I go get my hair done to cheer me up, he came to pick me up an hour later to find me still in the chair with GREEN!!! yes GREEN highlites (apparently the powerful antibiotics in my system sent things a little weird). Fortunately 2 hours later and lots of neutralizing solution cured the problem. As I said to the hairdresser, "If I hadn't had a heart problem when I walked in, it was guaranteed I had one when I walked out!" 
That's about all at the moment, more blood tests coming up and trying to keep on top of the med bills that seem to multiply like rabbits!!! 
Thanks to all for all your thoughts prayers and emails. 
Hugs Rachel 
Note:  starting with this issue you will find a "fundraising thermometer" posted on this segment of the newsletter.   This thermometer will show you how the efforts are going and include all funds raised from the Florida lecture tour by Aldo and Rachel, the ebook being sold by lybrary.com as well as the donations from magic4miracles.com and any donations sent directly to the Colombinis. Again, if you wish to help Rachel with raising funds for this life saving operation, here is a directly link to where you may do so: 
1)      order a product from their website www.wildcolombini.com  Right now they have a 2 for 1 sale where you pay for one and get 2 items;
2)      make a donation at the website set up for Rachel at www.magic4miracles.com
3)      go to www.lybrary.com and order the Wild At Heart book, the entire $20 goes to Rachel and the website is paying for the processing fees
4)      you can help as well by sharing this information with those on your mailing list and others who may not be receiving the weekly Have you Heard?   If you wish to receive a copy of just Rachel's weekly update that you may forward just that, send me an email and I will send that separately to you without all the other magic news.   My email is merlina17@aol.com or merlina@merlina.com 
THANK YOU FOR YOUR HELP

MAGICIANS LIFE   
Jason Latimer's high tech illusions in Tropicana show   
Music has changed much over the past few decades. We're not talking about styles…those always change. No. We're talking about means of production. The sound you hear today…and the ways in which you can get that sound to your ear…are crazily amazing. Compare the sound created by any of today's digital systems to the scratchy vinyl of your old uncle Fred's Iron Butterfly album and you realize there really is no comparison.
Well, what is good for music, is good for magic.
Jason Latimer is 28 years old. Get the picture? He's a young magician on the rise who has figured a way to bring magic "up to speed," so to speak. He embraces new technologies to turn old illusions into new found toys…and create new illusions that were never possible before. In short, he's created "Platinum Butterfly."
SOURCE
http://www.laughlinentertainer.com/articles/2010/06/15/news/cover/doc4b8da524e3399714533142.txt

THE ILLUSIONIST
 Review by Todd Brown 
A wistful ode to a now long-dead era, Sylvain Chomet's The Illusionist is an animated  film sure to both delight and frustrate fans who have spent years awaiting the return of the madman responsible for Belleville Rendez-Vous (aka The Triplets Of Belleville) back in 2003. The delight comes simply from Chomet's long-awaited return and the obvious artistry poured into every gorgeous frame of his latest feature.  The frustration? Despite the lengthy production cycle and increased budget, The Illusionist is, in many ways, a much smaller film than Belleville and completely lacking in the sort of mad-scientist wizardry that drew most to Chomet in the first place. Though very clearly the work of the same man – the visual style is unmistakable – this is a very different film and those hoping for more of the same … well, you're just not going to get it. 
SOURCE
http://twitchfilm.net/reviews/2010/02/berlinale-2010-the-illusionist-review.php

Magician Stuns Audience, Judges on 'America's Got Talent'
by Gary Mills   
Last summer we watched "America's Got Talent" for Jacksonville comedian Grandma Lee. (She made it to the show's Top 10.)
 But after watching Tuesday night's episode of the NBC talent show, we've got a new act to follow. That'll be easy for us. But difficult for other contestants. 
Thirty-six-year-old magician Michael Grasso stuns the audience — and the judges. 
SOURCE
http://jacksonville.com/opinion/blog/403251/gary-mills/2010-06-16/
magician-stuns-audience-judges-americas-got-talent

The PIKS Blogspot 
The Magician's Code and Father's Day 
This is just a silly little story from today. It may not be that interesting to most people, but I know I'll want to remember little things about the kids and what they did at different ages, so I like to write them down. Enjoy! 
SOURCE
http://thepiks.blogspot.com/2010/06/magicians-code.html

CONVENTIONS ELSEWHERE 
COLOMBIA Oct. 15-17 and Oct. 22-24
Medellin Llena Eres de Magia
5th Annual 
Featuring an international group of stars, including: 
 

 

Fernando Keops, Mexico
Sonny Fontana, Venezuela
Ernesto Planas, Italy
Alexander Blade, Cuba
Bismarck, Venezuela
Merpin, Argentina
Volantin, Venezuela/Colombia
Visit the website for more details
http://www.festivaldemagiamedellin.com

 BROKEN WAND   
Felix Snipes
Message from several sources 
Just a note to let you know of the passing of a very dear Atlanta magician, Rev. Felix Snipes   on June 11th.  He was always a gentleman and dressed impeccably whether performing or not. Felix started out as a choir director for some very famous evangelists, Dr. Haggiae and Wayne Bristow. For 25 years, he let the "Wonder Weekends", going to churches around the country and abroad 40 weeks of the year. The first night was an expose of ESP and the Occult. The second night, Felix would present his wonderful magic show and offer an invitation to accept Christ. Felix also had a grand singing voice, which in recent years was robbed from him by progressive Multiple Sclerosis. That did not stop Felix from coming to magic club meetings in his electric wheelchair. Although it was difficult for him to speak, he always enjoyed the magic and being around his compeers. His funeral was a celebration of a life lived fully and dedicated to God and family. 
He was a member of the International Brotherhood of Magicians, the Society of American Magicians and the Fellowship of Christina Magicians.   He was a member of the Georgia Magic Club, Ring 9, as well as the Order of Merlin Shield (thirty-five years a continuous member).
In the late 1970s magic reappeared in his life and he decided to use magic in his ministry. He launched his "Wonder-Full Weekend" evangelistic crusades in 1982, and took them throughout the United States. He served fifty-nine years in full-time ministry, and was a member of the First Baptist Church in Atlanta for forty-seven years. In 2004 he was diagnosed with multiple sclerosis, an unusual condition for a seventy-year-old to develop. 
Rev. Snipes was a personal friend of Dan and Carol Garrett for over 40 years. 
He turned his magic ministry over to others — Greg Davidson, and then Scott Humston — as his health deteriorated. Those two ministries continue as lasting legacies for Rev. Snipes.
Survivors include his wife of fifty-five years, Patsy; children Larri (Amy), Teresa (Frank) Vogel, and Stan (Ashley); eight grandchildren, and one great granddaughter. The family requests that memorial contributions be made to New Dimensions Evangelism, or to the Atlanta Passion Play.
There is a beautiful tribute/pictorial at:  http://wonderfullweekend.org/

 BIRTHDAYS FOR THE WEEK 
Michael Ammar (25)  –  Mago Belinko (23)  –  Drew Vincent Breen (21)
Julio Cesar (22)  –  Cody Clark (22)  –  Chubster Flores (23)
Sandy Liebowitz (23)  –  Douglas Lippert (25)  –  Mago Monterrey (22)
Hansel Perdomo (27)  –  Terry Runyon (21)  –  Montana Santa (John Degel) 27)
Julie Sobanski (23) 
Happy birthday to you,
Happy birthday to you,
Happy birthday dear friends
Happy birthday to you.

¿Escucho? …
Junio 21, 2010
por Maria Ibáñez
Saludos, esperamos que tuvieron un hermoso Día del Padre con los padres en sus vidas.  Nos quedamos en casa y pasamos el día tan especial con mi papa, mi tío ,nuestro hijo menor y su familia y algunos amigos cercanos de la familia. Era un hermoso día, aunque triste, hemos perdido nuestra preciosa Bibi después de una valiente lucha con insuficiencia cardíaca congestiva, la diabetes, ceguera y finalmente una obstrucción intestinal que finalmente le costó la vida. Tuvimos la bendición de tenerla como una parte tan importante de nuestra familia durante 14 años.
Difícil escribir esta semana, mientras mi corazón es pesado y mis pensamientos están siendo evasivos. A menudo se dice que "el espectáculo debe continuar", y también lo hará el correo electrónico semanal.  Se que mis amigos, entenderán cómo me siento.
Jason, Idalmis y el bebé estaban aquí para el día del padre y nos resulta difícil creer lo rápido que está creciendo Elías. Él es un niño tan feliz y esta lleno de alegría. La casa se queda vacía cuando se van pero sabemos que volveremos a verlos pronto, cuando podamos ir hasta Palatka de nuevo. Sólo con Orlando aquí habría completado el círculo y habría hecho que el día completo.
Hasta la próxima amigos, mantengan un sueño en elaboracion ya que crean sus mañanas con lo que sueñan hoy.
Maria Ibáñez
EN ESTA EDICIÓN
LA ESQUINA DE RACHEL
VIDA DE MAGOS
VARITAS ROTAS
CUMPLEAÑOS DE LA SEMANA
PENSAMIENTO DE LA SEMANA
¨Comienza haciendo lo que es necesario.
 Después lo que es posible y de repente estarás haciendo lo imposible".
San Francisco de Asís
EN ESTA EDICIÓN
Joshua Jay bienvenido en Miami
Jueves 24 de junio 2010
Miami da la bienvenida a Joshua Jay, en su única aparición en el sur de Florida, para una conferencia. La conferencia será de $ 10.00 en la puerta para que los miembros de Magic City Conjurers o Ring45 IBM; todos los demás pagarán $ 15.00.
Venga uno, vengan todos, usted no querrá perderse esta conferencia.
Nos vemos allí!
Adele Rhindress Friel
Adele Rhindress Friel, a.m.a. (Asistente antiguo mago), también conocida como "mariposa esquiva de Blackstone", será un invitado especial en CreativityAtSea.com 2011. Adele a viajado por Estados Unidos y Canadá, por tren, con Harry Blackstone a finales de 1940, y tiene muchas historias acerca de "cómo era en el camino con un gran mago" más de sesenta años atrás.
Adele ha acordado una vez en una presentación de por vida para el 2011 cruceros donde compartirá su propia historia y el amor de la magia. Terry Evanswood, uno de los coleccionistas y amantes de todo la historia de la magia, será nuestro guía turístico, como lo vemos en el gozo de Adele, así como material de archivo extremadamente rara de la Blackstone muestran que usted sólo podrá ver en CreativityAtSea.com 2011. Si te gusta la magia y la historia del arte tendrá un recuerdo de por vida después de este evento. Incluso si no eres un aficionado a la historia, le encantará la interacción entre Terry y Adele y usted no puede ver esto en cualquier otra conferencia sobre tierra o mar, para el caso. Sólo en Creativityatsea.com 2011.
VISITAR
LA ESQUINA DE RACHEL
No hay mucho sucediendo ahora mismo, la línea de infusión directa se ha eliminado y hemos tenido una consulta con los especialistas en alergia de la penicilina, y se ha decidido retrasar la prueba como una reacción severa puede ocurrir y me puede devolver a el hospital por lo que se demorara las pruebas hasta que el cuerpo se recupere lo suficiente de la infección y también consultaremos con los médicos complementaria sobre la seguridad de las pruebas.
En una nota más ligera Aldo me sugirió ir a arreglarme mi pelo para animarme, me vino a recoger a una hora después para encontrarme todavía en la silla con pelo VERDE! sí VERDE (al parecer los antibióticos tienen gran alcance en mi sistema y pone las cosas un poco raro). Afortunadamente 2 horas más tarde y un montón de solución neutralizante curaron el problema. Como ya he dicho a la peluquería, "Si yo no hubiera tenido un problema cardíaco, cuando entré, le garantizó que tenía una cuando salí!"
Eso es todo por el momento, más análisis de sangre subiendo y tratando de mantener bajo control las facturas medicas que parecen multiplicarse como conejos!
Gracias a todos por todas sus oraciones pensamientos y mensajes de correo electrónico.
Abrazos Rachel
Nota: A partir de esta edición encontrarán un termómetro de recaudación de fondos "" colocado en este segmento de la carta. Este termómetro le mostrará cómo los esfuerzos van e incluyen todos los fondos provenientes de la gira de conferencias de la Florida por Aldo y Rachel, el libro electrónico que se venden por lybrary.com así como las donaciones de magic4miracles.com y las donaciones enviadas directamente a la Colombinis . De nuevo, si usted desea ayudar a Raquel con la recaudación de fondos para esta operación de salvamento, aquí hay un enlace directo a donde usted puede hacerlo:
1) Para un producto de su página web www.wildcolombini.com Actualmente tienen un 2 por 1 en venta las que paga por una y obtener los artículos 2;
2) hacer una donación en el sitio web creado por Raquel en www.magic4miracles.com
3) ir a www.lybrary.com y el orden del libro Wild At Heart, la totalidad de $ 20 va a Rachel y la página web está pagando por las tasas de tramitación
4) se puede ayudar también al compartir esta información con los de su lista de correo y otros que pueden no estar recibiendo el tener semanales Escucho? Si usted desea recibir una copia de sólo actualización semanal de Rachel que usted podrá enviar sólo eso, me envía un e-mail y yo les enviamos voluntad que por separado, sin que todas las noticias de otra magia. Mi correo electrónico es merlina17@aol.com o merlina@merlina.com
GRACIAS A TODOS POR SU AYUDA
VIDA DE MAGOS
Las ilusiones de alta tecnología de Jason Latimer en show en Tropicana
La música ha cambiado mucho durante las últimas décadas. No estamos hablando acerca de los estilos … esos siempre cambian. No. Estamos hablando de medios de producción. El sonido que escuchamos hoy en día … y las formas en que usted puede llevar el sonido al oído … son increíbles. Compare el sonido creado por cualquiera de los sistemas digitales de hoy para el vinilo áspera de hierro que álbum viejo de su tío Fred y te das cuenta que realmente no hay comparación.
 
Bueno, lo que es bueno para la música, es bueno para la magia.
Jason Latimer de 28 años de edad. Se da cuenta? Él es un mago joven en el lugar que ha ocupado una manera de traer la magia "a la velocidad", por así decirlo. Él abraza las nuevas tecnologías para convertir las viejas ilusiones en nuevos juguetes encontrado … y crea nuevas ilusiones que nunca antes fueron posibles. En resumen, que ha creado "La Mariposa Platino"
FUENTE
http://www.laughlinentertainer.com/articles/2010/06/15/news/cover/doc4b8da524e3399714533142.txt
El ilusionista
 Comentario por Todd Brown
  
Una oda nostálgica a una época ya muerta hace mucho tiempo, Sylvain Chomet El ilusionista es una película de animación seguro que tanto deleite y frustrar a los aficionados que han pasado años esperando el regreso del loco responsable de Belleville Rendez-Vous (también conocido como Las Tres Mellizas de Belleville) atrás en el 2003. El placer viene simplemente de la esperado regreso Chomet y el arte obvia vierte en cada cuadro magnífico de su último largometraje. La frustración? A pesar del ciclo de producción largo y aumento del presupuesto, El Ilusionista es, en muchos sentidos, una película mucho más pequeña que Belleville y carece por completo de la clase de magia científico loco que atrajo a más de Chomet, en primer lugar. Aunque es muy clara la labor del mismo hombre – el estilo visual es inconfundible – esta es una película muy diferente y los que esperan más de lo mismo … bien, simplemente no va a conseguir.
FUENTE
http://twitchfilm.net/reviews/2010/02/berlinale-2010-the-illusionist-review.php
Aturde Mago, Audiencia los jueces en "America's Got Talent '
por Mills Gary
El verano pasado vimos "America's Got Talent" para Jacksonville comediante Lee abuela. (Ella lo hizo a la presentación de los Top 10.)
Pero después de ver episodio de la noche del martes de la demostración del talento de NBC, tenemos un nuevo acto a seguir. Eso va a ser fácil para nosotros. Pero difícil para los demás concursantes.
Treinta y seis años de edad mago Michael Grasso deja atónita a la audiencia – y los jueces.
FUENTE
http://jacksonville.com/opinion/blog/403251/gary-mills/2010-06-16/
-mago aturde-público-jueces-Américas-got-talento
El Piks Blogspot
El mago de código y el Día del Padre
Esto es sólo una historia poco tonto a partir de hoy. Tal vez no sea tan interesante para la mayoría de la gente, pero sé que querrá recordar cosas poco sobre los niños y lo que hicieron en diferentes edades, así que me gusta escribirlas. Disfrute!
FUENTE
http://thepiks.blogspot.com/2010/06/magicians-code.html
VARITAS ROTAS
Sólo una nota para hacerle saber de la muerte de un mago muy querido en Atlanta, el Rev. Félix Snipes el 11 de junio. Siempre fue un caballero y vestido impecablemente si realizar o no. Félix comenzó como un director de coro para algunos evangelistas muy famoso, el Dr. Wayne Haggiae y Bristow. Durante 25 años, dejó que el "Fin de Semana Wonder", yendo a las iglesias de todo el país y en el extranjero 40 semanas del año. La primera noche fue una exposición de pesetas y el ocultismo. La segunda noche, Félix presentará su espectáculo de magia maravillosa y ofrecer una invitación a aceptar a Cristo. Félix también tenía una gran voz para cantar, que en los últimos años fue robado de él por la esclerosis múltiple progresiva. Eso no impidió que Félix de venir a las reuniones del club magia en su silla de ruedas eléctrica. Aunque fue difícil para él hablar, siempre con la magia y estar cerca de sus compinches. Su funeral fue una celebración de una vida vivida plenamente y dedicada a Dios ya la familia.
Fue miembro de la Hermandad Internacional de Magos, la Sociedad Americana de Magos y la Hermandad de Magos Christina. Fue miembro del Club de Georgia Magic, Ring 9, así como la Orden de Merlín Shield (treinta y cinco años un miembro permanente).
A finales de 1970 volvió a aparecer la magia en su vida y decidió usar la magia en su ministerio. Él lanzó su "Wonder-Full fin de semana" cruzadas evangelísticas en 1982, y se los llevó por todo Estados Unidos. Sirvió cincuenta y nueve años en el ministerio a tiempo completo, y fue miembro de la Primera Iglesia Bautista de Atlanta durante cuarenta y siete años. En 2004, fue diagnosticado con múltiples
la esclerosis, un padecimiento raro que un setenta años en desarrollarse.
Rev. Snipes fue amigo personal de Dan Garrett y Carol por más de 40 años.
Volvió la magia sobre el ministerio a los demás – Greg Davidson, y luego Scott Humston – como se deterioró su salud. Los dos ministerios continuar como legado duradero para el Reverendo Snipes.
Le sobreviven su esposa de cincuenta y cinco años, Patsy, los niños Larri (Amy), Teresa (Frank) Vogel, y Stan (Ashley), ocho nietos y una bisnieta. La familia pide
que las contribuciones memorial se hizo a Nueva Evangelización Dimensiones, oa la Play Atlanta Pasión.
 
Hay un hermoso tributo / pictórica en: http://wonderfullweekend.org/  
CUMPLEAÑOS DE LA SEMANA
Michael Ammar (25)  –  Mago Belinko (23)  –  Drew Vincent Breen (21)
Julio Cesar (22)  –  Cody Clark (22)  –  Chubster Flores (23)
Sandy Liebowitz (23)  –  Douglas Lippert (25)  –  Mago Monterrey (22)
Hansel Perdomo (27)  –  Terry Runyon (21)  –  Montana Santa (John Degel) 27)
Julie Sobanski (23)
Feliz cumpleaños a ti,
Feliz cumpleaños a ti,
Feliz cumpleaños querido amigo
Feliz cumpleaños a ti.